Which Hair Style is Best for Wedding
On the never-ending wedding to-do list, choosing the ideal wedding hairstyle may be the least significant product or  item. But to us, the wedding hairstyles are just as significant as the wedding accessories, wedding dress, venue, reception, and location. Because your appearance is crucial, we spent months looking for both elaborate and straightforward wedding hairstyles.
Whether it's an extremely smooth chignon, delicately flowered blooms hairstyle, a vintage updo, or carefree "woke up like this" waves and jeweled headband or headpiece, consider styling your hair with a scarf. We have all of your wedding hair inspiration covered, whether you're looking for beach wedding hairstyles, Indian wedding hairstyles, or hairstyles for bridesmaid and wedding guests.
Select your wedding hairstyle based on your face shape
The truth is that there aren't typically any best hairstyles for weddings. Any bridal hairstyle is lovely, but the one you choose will be based on the shape of your face. Every woman has a unique face. Any person can pull off some haircuts that another cannot. Therefore, we'll be showing you many hairstyles that might work for your face type in this article.
The Oval Face
The most beautiful woman in the world has an oval face. She can pull off any hairdo, including half-down, half-up bridal hairstyles, chignons, fringes, and buns.
The Square Face
The ideal wedding hairstyle can be either free-flowing curls or a low bun. As an alternative, she could make her hair loose and perhaps the center part version or section it to expand her face & reduce the angles.
The Heart-Shaped Face
Wear your hair parted temporarily off-center. Make it in the desired shape of a braid for your bridal hair. You can even let it hang down so that it conceals your chin's sides. Ensure that your hair is nicely textured no matter what.
The Rectangle Face
Pick updos with buns for your wedding. Your hair is pulled back into a topknot. Additionally, you can style your hair in sweeping waves with loose curls. Your cheekbones will stand out, and you'll have a wider face.
The Circular Face
Select side part version hairstyles using sleek ponytails to make cheeks appear higher. For a more angular form, alternatively, you could side split your hair deeply and wear it down.
Long Hair Wedding Hairstyles
These are the best attractive wedding hairstyles for lovely women with long hair. There are many wonderful ideas for you, regardless of your choice to have your hair up in a traditional updo as well as down.
French Twist Hairstyle
This wedding-day hairstyle is classic. The best solution for any appearance related to a wedding. You may either make it lighter or softer. The facial hair could be styled or pulled back.
High Bun
A high bun has a modest carelessness and pure beauty. A few liberated hairs spread throughout the head lighten the hairstyle even further. To add volume, utilize a little roller.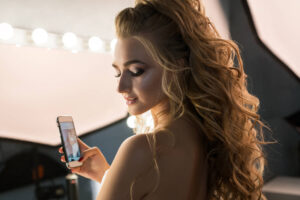 Loose Waves
For the best ordinary appearance, this is the best choice. Among the most common bridal hairstyles nowadays is the light flying wave, which looks fantastic on any bride. To produce a wind illusion, the bang should ideally be curled outside of the face. To achieve the most natural-looking waves, the hair should be placed onto a curling iron even without a clip, and slightly twisted into a tourniquet.
Half-Up and Half-Down look 
among the most widely used hairstyles for wedding days. It highlights the inherent beauty of a bride and is incredibly sweet and soft. With braids or bundles, you can get rid of all the hair close to your face. The crown region should preferably be lightly combed; this will add volume and gorgeously highlight the form of the head. Pick the weightless beaded twigs if you wish to add some ornaments.
Long wedding ponytail
The elegance and fullness of the hair are displayed by a soft hairdo. To make the hairstyle look balanced, it is vital to add volume to the crown part version or sections and to the bangs. To maintain the pony tail's volume and shape during the event, it is preferable to comb it from the inside. To give your appearance more naturalness and sensitivity, add a few freed layers of strands.
Mermaid Braids
Simple and romantic wedding hairstyles are the ideal choice for outdoor weddings. For weaving to become more abundant, it's also best to employ extra synthetic hair layers of strands.
Classic Updo
Almost everyone looks good with this hairdo. Light lines draw attention to how feminine the wedding outfit is. You have the choice between some extra layers of strands and a traditional back updo.
How Should Long Bride Hair Be Prepared for Styling?
Shampoo the hair numerous times, lengthen with conditioner, and brush dry. If you possess long, thick hair, you don't necessarily need to curl it altogether; instead, you should gather some of it around your neck and back and firmly wrap it there before fixing it with unseen hair slides. Next, use the remaining hair to create the hairdo.
Medium Hair Wedding Ideas
The ideal hair length for bringing back hairstyles is medium length.
Asymmetrical Twisted Updo
On bare shoulders and one open shoulder, this hairstyle is ideal. It appears simple and mild. The thick texture of bundles makes it ideal for both dark black and blonde wedding hairstyles. Begin weaving these two together from the face for a full-bodied, long-lasting effect.
Timeless Chignons
This bun is "timeless," always fashionable, and goes with practically all haircuts because of its light, natural texture. Work with thick layers of strands, avoid using a curling iron with a small diameter, and allow the waves to be as natural-looking as possible to achieve the ideal chignon. To obtain the "new" effect, use liquid polish rather than spray.
Elegant Low Bun
It's a stunning hairdo for your wedding day that won't take away from your inherent attractiveness. Your appearance will be glossed up by shiny, smooth hair. Such a hairstyle complements big, statement earrings as well as a simple, modest dress. With a coat or hat, you could easily finish off a classic outfit.
Medium Hair: Half Up, Half Down
Use the hair extensions to demonstrate the thickness and depth of the hair. They will help the hairdo last long. To create a more cohesive image, add twists and braid components and connect them towards the crown part version or sections. To keep the picture youthful and light, you can let a few hairs fall out on your face.
Slightly Messy Curly Updo
The light, airy appearance is greatly enhanced by this hairdo. It will highlight naturalness and weightlessness. It will look even more beautiful with a lavish dress, a fluttering veil, or even a sprig of pearls or beads.
Ponytail For Casual Brides
Curl the bride's hair into the iron for the most natural appearance. To create classy and organic waves, try pulling the iron down. Utilize the hair powder and comb the tail to achieve the ideal volume.
How Should Medium Haircuts Be Prepared for Styling?
Prior to styling, hair should be thoroughly dried and washed. To get results that last, apply a small bit of hair foam prior to blow-drying your hair.
Short Hairstyles for Weddings
For brides having haircuts, there are numerous beautiful short wedding hairstyles available. And the inclusion of the jewelry will help in finishing the bridal look.
One Side Pinned Hair
Its distinctive short wedding haircuts give off an airy, delicate wedding vibe. It will appear much lighter if you add a big flower-shaped accent. A basic and straightforward dress without tulle or other distracting embellishments is appropriate for this hairline.
Stylish Straight Bob
One of the hottest wedding hairstyles is this one, which has a sense of current styling. For this haircut, brush with a hairdryer before lightly ironing the top. It will provide some brilliant styling cues for your hair. Remember to backcomb your hair; it will give it more volume.
Easy Side-Swept Hair
This sloppy aesthetic conveys a lot of style. Iron-curled curls can be brushed at the roots to maintain the hairstyle's form throughout the day. Use powder to provide some volume as well. Both the roots and also the entire hair length could be treated with it.
Wedding Headband
For brides who wish to highlight their crystals and  jewelry, these hairstyles are the ideal choice. It will make it easier to design distinctive wedding hairstyles. On black hair, it enhances depth and draws attention to the lines in hairstyles. Things that are consistently in style include ribbons, pearls, and crystals. The most important factor to take into account is compatibility with the entire bridal ensemble, including the shoes and dress.
Small Braid Accent
Curling your hair and leaving the ends straight will help you get a bohemian hairstyle for your wedding day that looks as natural as it can. Add the braid if you wish to make it hotter. The braid could make your appearance even lighter, and it can also be a terrific alternative to bridal accessories.
How Do You Get Short Hair Ready for Styling?
It is best to use a brush to lift the roots after thoroughly washing your hair with shampoo and conditioner. Whether to curl or straighten the base for the next steps. To ensure that your styling lasts longer, use dry shampoo and only apply it to the roots.
Bangs for Wedding Hairstyles
Any hairstyle may work with the bangs. It could be used to braid hair or simply used to join the bang to the hairstyle.
Ideas For Straight Bangs In Hair
Although you may utilize the high bun for any style, it will work best for bangs.
Wedding Hairstyles with Side Bangs
With practically any hairdo, you can choose to wear side bangs. We suggest adding a wreath to complete your ensemble. A huge bloom will also look lovely, but be mindful of the overall wedding aesthetic. Use more volume to try and make the hairdo look harmonious.
Trendy Curtain Bangs For Brides
For brides, trendy curtain bangs are another good option. A hat, jacket, or a pair of sizable earrings might finish your bridal appearance. Your face will gain a delicate appeal from an unkempt kind of style. Try to stay away from sophisticated hairstyles such as Hollywood waves.
Braided Wedding Hairstyles
If we're talking more about natural wedding aesthetics, a braided wedding hairstyle is a solid bet. Braids feature delicate, harmonious lines that are modest and fashionable for practically every bride.
French Braid Hairdos
The French braid can be a traditional wedding option, since it may be worn in a variety of ways. Before braiding, you should better use dry shampoo on the roots to add more volume.
Dutch Braids For Wedding
A tulle dress or a satin top, together with Dutch braids, will finish the minimalist look. These haircuts are not appropriate for wearing a veil. Instead, use a thin twig covered with beads or crystals.
Fishtail Braid Ideas for Wedding 
With a lush and serene dress, a fishtail can be employed to complete the delicate appearance. Use only subdued, minimal accessories.
Milkmaid braids on a stylish crown
For a boho-style outdoor wedding, a beautiful crown with milkmaid braid is the best choice. Your ideal wedding outfit consists of a sundress, a bouquet of flowers, and unusually fashionable shoes.
Half-Up With Waterfall Braid
Choose an open-back wedding dress with little earrings for the ideal wedding style if you enjoy wearing your hair half-up with a waterfall braid.
Face Framing Lace Braids
Lace braids that frame the face are a natural choice. Smooth hair, natural makeup, as well as a simple dress will finish off your ensemble.
Mermaid Braid Hairstyles 
Utilize the hair extensions to build a voluminous mermaid braid with some falling strands. To wear this haircut, go with an a-line dress.
Extensions For Wedding Hair
Almost every hairstyle uses Hair Extensions; it all relies on the bride's tastes. Both braided and relaxed hairstyles could benefit greatly from hair extensions. They will contribute to making the hairstyle more stunning and long-lasting.
Hairstyles For Every Hair Type For Weddings
When selecting the perfect hairdo for your wedding, there are various things to consider.. The total aesthetic that perfectly matches each bride is mostly decided by the texture, length, and wedding theme. Below is a list of the ideal bridal hairstyles for every type of hair.
Hairstyles for Weddings with Thin Hair
For adding volume to hair extensions, use a roller. Hair clips will also be helpful in the evolution of hairstyles. The indistinct hairpin is superior to the regular ones.
Brides with Straight Hair
Low bun braided. Straight, smooth hair works well for braiding and bundling. Create a bun next; it is beautiful. Additionally, this styling looks fantastic on both short and long hair.
Brides with Curly Hair
Starting out, it is advisable to utilize a straightener to achieve silky hair. The ideal hairstyles for black brides include bold accents.
Natural Wavy Hair
It's superior to curl the hair first, then, as you work, shape it into clean curls. You could even straighten your hair; everything is based on the bride's likes and ideal aesthetic for the wedding. For a smoother appearance, use hair cream.
Hairstyles for Every Type of Wedding
Finding the right wedding hairstyle can be difficult, especially if you want it to match your wedding's theme. The most popular bridal hairstyles matching your style are listed below. When you've selected the ideal look from among several wedding hairstyles, consult a qualified hairdresser to bring it to life.
Dreamy Elegant Look
Think of something simple yet fashionable, like a messy low bun and also a medium bun, to design a stunning, alluring wedding hairstyle. Additionally, brides having long hair look stunning in beach waves.
Formal For The Classic Bride
It features the most opulent appearance. Bright touches could be added, such as red lips or novel manicures. See some lovely, distinctive wedding hairdo ideas below:
Hollywood wave
Tail with a silky texture
A smooth knot of hair with no volume
Hairstyles with Retro trend and Influence
It's a popular wedding hairstyle for a delicate bridal appearance. It is ideal for something like a retro trend weddings.
Casual and Simple Styles
Light and tender Hollywood wave in the modern era
A textured tail
Hair that is straight
Bohemian Wedding Style
Braided hairstyles that are unique for weddings:
Crown braid
Messy beach style
Waterfall braid
Whimsical or Relaxed Rustic 
Wedding hairstyles that are popular in 2022:
Waves with hair extensions
Messy hair knot
Beach styling
Hair Accessories for Weddings
The crucial components that will complete your wedding hairstyles are your hair accessories. Making the appropriate hair accessory selections will be crucial to creating your wedding appearance. Don't add too many accessories to your outfit. Set the primary accent first, and then choose the rest of the accessories.
Hairstyles With Veil
Stylish veils for wedding hairstyles:
Curls
a middle bun with curls
a low bun with curls
For the veil, a low bunch and curls  are the best style. The veil should be fastened precisely so that you may cover both your face as well as your shoulders, since it is an essential component of the religious service. Your veil can be styled with a comb. You must create a root combing and perhaps a fine invisible amount of braid or strand to secure a veil on your hair.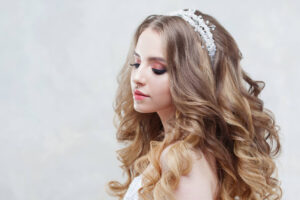 Bridal Crown and Tiara  
This royal accoutrement is appropriate for a lavish wedding. For curled hairstyles with hair extensions, a tiara is a preferable thing.
Flowers in Hair
Add some flowers to your wedding hairstyle if you're going for a delicate and airy look. It will look great at an outdoor wedding, but you need to talk better with your florist about the flowers you should select. You can build a harmonious combination with the aid of your florist.
Using Scarf to Style hair
Your boho outfit will be finished with this accessory and very little else. To complete the unconventional wedding style, use a modest dress.
Wedding Hairstyles With Ribbon
If you intend to add contemporary ribbons to your hairstyles, opt for a straightforward, understated appearance; don't go overboard with the decorations. In order to accentuate freshness, use natural makeup.
Fashionable Pearl Ideas
This season's fashion is dominated by huge pearls and erratic interlacing of pearls of various sizes. Some wedding dresses with pants, a vest, or a jacket go well with it. Pick makeup for smooth, lustrous hair, brilliant eyes and lips, and beautiful skin. Personality, charm and style would be applied in this combo.
Flower crown
A flower crown would be a lovely choice for a boho or outdoor wedding. You should choose loose curls and bare makeup. The lace dress may finish off the delicate appearance.
Determine the wedding style you desire before choosing the ideal haircut. Select the accessories in accordance with the wedding look. Before choosing your wedding hairstyle, speak with your hairstylist because the hair texture and hair length will be very important.
Pros and Cons of Different Hair Styles for Weddings
Every bride imagines the ideal wedding day and, of course, hopes to look her best. It is essential to select the ideal bridal hair, but that is simpler said than done. How is a bride supposed to choose just one of all the selections? A bride must think about a hairstyle that suits her well, looks wonderful in pictures, complements the wedding dress, and can be worn all day.
Which one ought you get for your wedding hair, then? Should you wear your hair up, down, or half up?
The Updo
Most brides choose the traditional updo as their bridal hairstyle. There are a few updo styles, meanwhile, that some women feel are overdone and already too typical. There are numerous different updo styles available today, so talk to your hairstylist about your possibilities.
The updo's best level of quality is that it maintains its length all day long and looks excellent in pictures. The only issue regarding updos is that they tend to be heavy for someone with long and thick hair and can seem dull in the front. Make sure the updo is perfect from every angle while maintaining a soft appearance.
All Hair Down
A lovely hairstyle, particularly if you've got long hair, is wearing it all down. It is not at all hefty and is really comfy. However, wearing your hair down can be dangerous because it's difficult to maintain its form and shape. It can become sloppy in the course of the day and annoying to constantly touch and style your hair.
If you decide to go with this hairstyle, be sure to schedule time to touch your hair up during the event. Your hair should stay in place with this, especially when there are pictures everywhere.
Half updo
You can have the greatest of both worlds with a half-updo for bridal hair. You have to leave one-half of your locks loose while keeping the other half pinned up. Well, there's always a chance of a half-updo. The top half can maintain its shape, but the bottom half can become disorganized.
You must feel more at ease with a half updo if you don't feel at ease wearing your hair completely down or up in an updo. However, make sure this look suits you well. This style makes the faces of certain women appear larger.
Try out different hairstyles with your preferred stylists to choose which wedding hairstyle suits you the best. Try each one out to see which one looks the best.
Tips for Styling Hair for Weddings
At Bridal Express Hair and Makeup Las Vegas, we understand that accepting the dress is just the beginning of realizing your wedding dream.
While meticulously planning every aspect of your wedding ceremony before even meeting your future spouse may be going too far, it's still crucial to start early with your preparations as a couple for both the event itself and your wedding dress.
Finding options and ideas for one's wedding hairstyle would be as simple as ever thanks to Pinterest and getty images, but how about this obscure wedding hair advice? How many days should you pass before washing your hair? How do you decide which wedding hairstyles suit your unique style the best? Which hair care tips and for how long will you implement before the wedding? Below are some bridal hair ideas and tips for brides to know in order to get the perfect wedding hair.
1. Selecting the right wedding hairstyles
Do you desire an updo for your hair? Let it fall in gentle waves? Maybe a braided half-up style? There are numerous alternatives for wedding hair! Take a moment to relax and think about a few important elements before you become very stressed:
What is your dress like?
Your hair should enhance your dress rather than clash with it. It's acceptable to go with a less dramatic hairstyle when your clothing is plain. Consider a more understated yet gorgeous updo if the dress is an expensive ball gown with lots of ornamentation and dazzling accents. To highlight the lovely open-back design of your dress, go for a side braid  and maybe ponytail. Basically, it's crucial to select a hairstyle which complements your clothing and sense of fashion.
How does the weather look?
You can wear those lovely cascading curls and any other hairdo of your choice if your reception or venue setting is within or in a cooler climate. Consider an updo, though, if you're going to get married inside a hot, muggy environment, so you won't have to worry about frizzy hair hanging on your back or your curls coming out. An expert hairstylist can use hair extensions, which are significantly more heat- and humidity-resistant and keep their curl better than natural hair, to help ensure that your hairstyle lasts.
What is your hair texture, volume, and length?
Finding out whether your hair is not really thick or long enough to carry off a complicated Pinterest hairstyle can be heartbreaking. Consider narrowing your search to hairstyles that may be worn with shorter hair in this situation. Thankfully, you can still utilize hair extensions to get the hairdo of your desires in place of that.
Additionally, it's crucial to bear in mind that the hair texture affects the wedding hairstyle you choose as well as any hair clip or accessories you decide to wear.
With a veil or without a veil?
On your marriage day, will you be donning a veil? If so, remember that veils ruin light updos. To keep your bridal hairstyle despite wearing a veil, choose a more durable hairdo, such as a low bun, as opposed to a wispy, soft, loose updo.
2. Perform a trial run beforehand
We cannot emphasize enough how crucial it is to conduct a trial run alongside an expert hairstylist once you've selected a hairstyle you like. Only when attempting to recreate the look in reality do the tiny "oh no's" emerge. Is the hair length sufficient to keep it in place all day? Are you blessed with enough hair to achieve the hairstyle's remarkable volume and density as seen in the pictures? Does it even suit your facial shape as well as your hair texture? It's usually preferable to take care of these last-minute surprises in advance than to worry about the week before your ceremony, or even worse, on the day of it!
3. Show your hairstylist pictures as reference
Giving your hairstylist a gallery of pictures of the precise aesthetic you want will help prevent misunderstandings and miscommunications. After all, everyone has a completely different conception of what the ideal soft wave or updo looks like. However, it's important to limit the pictures to 3–5 pieces, as using way too many photos for inspiration might be confusing and complicate the process.
For some people, the choice may be overwhelming! Your stylist can discuss it with you and will typically give you an example gallery of a few potential looks. You typically know exactly where you'd like to go at the end of the trial.
It's time to get out the Pinterest board you've been working on for so long!
4. Should you style your hair yourself for the wedding?
Consider hiring an expert stylist for your bridal hair unless the only hairdo you've mastered is a ponytail. You can definitely make the most stunning wedding hairstyles on your own if you enjoy toying with your hair and have a few basic skills. In the months before your ceremony, refer to online tips and spend some time practicing and perfecting the hairdo so you can do it yourself on the big day. A trusted friend or relative, such as your bridesmaid, should practice your bridal hairstyle together so that she may help you if necessary during the big day.
5. Avoid getting a haircut the day of your wedding
Or any other significant hairstyle modifications or hair color jobs like doing hairspray, for such matter, as they're simply too uncertain. For wellness looking hair, it is better to plan early and have a small cut a few weeks prior to the big day. Many brides forgo this step in an effort to lengthen their hair as much as possible, but doing so will help with flyaways, split ends, and, of course, integrating your natural hair with any extensions. In the months preceding your wedding, make sure to use frequent, deep-treated hair masks to nourish and hydrate your locks and tresses.
Hair extensions can come to your rescue if you choose to take this route and end up in a bad situation.
6. Prepare your hair the day before.
Some hairstylists advise getting a blowout prior to your wedding. In this case, your hair will be in the best possible condition to hold a style.
It is advised to have your hair professionally blow dried the night before when you have frizzy or curly hair so that it is shiny and smooth in preparation for styling.
Having a shower in the morning is totally OK if you have naturally manageable, smooth hair. Second-day hair is not required. Your hair should be well-prepared with products by the hairdresser. Never flat iron the hair before having it styled, though that much is certain.
In order to avoid unnecessary hair blunders on the big day, discuss with your hairstylist what they would want you to prepare the hair for the wedding throughout your hair trial. It's a good idea to visit a hairstylist with experience using extensions if you intend to use hair extensions but haven't clipped them on yourself.

How to Choose the Best Hair Style for Weddings
You'll need to add "choosing the best wedding hairdo" to your to-do list unless you're one of the fortunate women with a short haircut. There are several bridal day hairstyles that could blend in wonderfully at your wedding, from lovely braids to elegant updos to beachy waves. Even though your locks might seem to be the least among your concerns, planning ahead will help you choose the ideal hairstyle for your wedding.
Here are some ideas for picking the best wedding hairstyle.
Research
Do some research before going to the hairstylist. Use the bridal hairstyle-specific Pinterest pages, Instagrams, Tumblers, magazines, or even a wedding hair salon gallery at your best. Look up to a specific model and celebrities whose hairstyles you seriously desire to examine their stylists' full catalogs.
Consult with others
If you've recently attended a few weddings, you might have noticed one or two brides with really striking hairstyles. Call them and enquire about the steps they use to achieve the best wedding hairstyle. They might have advice for products to try and stay away from.
Consider your dress
Your wedding gown likely represents a significant time and money commitment, so you'll want to showcase it. If it has a striking neckline, you might want to use an updo to highlight it. On the other hand, you might want to play your hair up with disheveled curls or something more dramatic if you chose a basic wedding dress neckline.
Pick a realistic look for you
When exploring various bridal hairstyles, hair texture, density, and length all play a part. If you have fine hair and want thick beach waves, you'll need to consider adding volume with extensions or request something else. Before trying anything out, you should also consult your stylist about their ideas.
Accessories
Want to improve your aesthetic? Add a bridal hair accessory or a wedding veil with flowers. Keep in mind that choosing something lavish will have an impact on your chignon. Take it with you on your trial visits so you can observe what functions best.
Frequently Asked Questions
Here are some example questions being asked:
1. How Do I Pick a Hairstyle for My Wedding?
The value of maintaining one's version of style cannot be overstated. Consider a smooth-textured hairstyle if you're wearing a light dress and an airy, more elegant style.
2. Should I Wear My Hair Up or Hair-Down to a Wedding?
Based on someone's mood, tastes and appearance. A more comfortable way of spending your ceremony day is having your hair done. And untucked hair appears extremely effortless and natural, but it might lose its appearance during hot weather, so it's vital to think about the occasion you have planned.
3. How Do I Pick Out Hair Accessories for My Wedding?
Selecting the appropriate accessories is a difficult and laborious process. They can be big (like combs or blossoms), or little and tidy, like pearls or crystals. Setting the tone for the outfit and sticking to one material across all accessories is crucial. Utilize the same aesthetic for your bridal hair accessories, for instance, if someone wears golden earrings with pearls. Avoid wearing heavy jewelry in your hair because it will damage your appearance and be uncomfortable all day.
4. Is a Tiara Required for My Wedding?
Based on your overall appearance. If you're unsure, pick two different styles of jewelry and dedicate the day to shopping. Before dinner, for instance, switch from wearing a tiara to another accessory, like a headband.
5. Should I cut my hair before the wedding?
When your stylists did not advise you to get your hair trimmed before the wedding, it is not advisable. It's more challenging to style newly cut hair. It is preferable to get a tip and advice from an expert.
6. When should I dye my hair before the wedding?
It is preferable to use liquid polish instead of spray when developing a hairstyle. As a consequence, you won't notice the too polished appearance because the hairstyle can be fixed flawlessly.
Choose Bridal Express for your Wedding Hairstyle
If you are looking for experts in doing your desired hairstyle for your wedding, Bridal Express Hair & Makeup Las Vegas is the key. Our team of professional hair stylists and make-up stylists will ensure that all the details you provide for your wedding look will be on point whether you have long hair, short hair or medium hair. You may ask questions about anything you want, your stylist will also give you tips. Get in touch with us or call us on (702) 326 0619.
For more information on how https://hairandmakeuplasvegas.com/ can help you on your Wedding Hair style, please contact us at (702) 326 0619, or visit us here:
Bridal Express Hair & Makeup Las Vegas
3150 N Soft Breezes Dr, Las Vegas, NV 89128, United States