When to Book Bridal Hair and Makeup
You wish to not only feel gorgeous on your wedding day, but also look your very best! But find when to book for your Bridal hair and makeup needs is also crucial. In addition, finding a reputable professional wedding hair and makeup service is crucial to ensuring that you look stunning. While most beauty professionals provide both hair and makeup services, some just provide that service. You should keep in mind these suggestions if you book them alone or together.
Benefits of Booking Bridal Hair and Makeup in Advance
Booking bridal hair and makeup services in advance can offer several benefits, including:
Availability: Booking in advance ensures that you can secure the hair and makeup artist of your choice, who may otherwise have a busy schedule on your wedding day. This is especially important if you're getting married during peak wedding season.
Stress reduction: Knowing that your hair and makeup needs are taken care of can help reduce your pre-wedding stress levels. You can relax and focus on other aspects of your big day, without worrying about last-minute hair and makeup arrangements.
Trials: Booking in advance allows you to schedule hair and makeup trials well before the wedding day. Trials are important because they give you an opportunity to work with your stylist and makeup artist to create a look that you love. This ensures that you're happy with your hair and makeup on your wedding day.
Better preparation: Booking in advance gives your stylist and makeup artist time to prepare for your wedding. They can plan out your look, choose the right products, and ensure they have everything they need on the day of your wedding.
Cost savings: Many hair and makeup artists offer discounts to clients who book in advance. This can help you save money on your wedding budget, which can be used for other wedding expenses.
Overall, booking bridal hair and makeup services in advance offers many benefits. It ensures availability, reduces stress, allows for trials, better preparation, and can even save you money.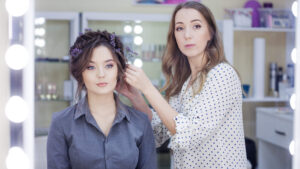 What is a wedding hair and makeup trial?
Consider your hair and makeup trial for your wedding as a dress rehearsal. In order for you to experience how it feels and looks, your stylists will style your hair and use your preferred makeup look. To prevent any surprises on the wedding day, this will offer you a sneak peek at how your makeup and hair will appear.
When to Book a Hair and Makeup Trial for Wedding
Set up an appointment 3 to 6 months before your wedding. This will guarantee that you have enough time to thoroughly test out your ideal look and, if necessary, make any changes. Although experts concur that you only really need to schedule 1 run-through, you may schedule additional ones if you'd like. An additional appointment could ease your anxiety, for instance, if you're deciding between two looks or would like to try something somewhat different the second time. Also, you'll have more time to connect with your beauty experts.
Tips for Wedding Hair and Makeup Trial
Ensure that you are prepared before scheduling your wedding beauty trial. To make sure you achieve the most from your appointment, read this list of tips.
Schedule your bridal hair and makeup trial in advance
You do not have to enter your trials with no prior knowledge. Several beauty experts are eager to speak with you over the phone (some even provide complimentary initial consultations). This call has two objectives: first, to build rapport with a potential bride; second, to find out about their goal and offer suggestions that will aid in their planning process.
Find motivating photos for your hair and makeup
It might be challenging to determine the precise appearance you desire when it comes to your hair and cosmetics. We advise compiling a board with beautiful looks you like. Perhaps you favor classic, elegant looks, or perhaps you prefer the free-spirited, bohemian look. Whatever looks you decide on, your stylist will better grasp your preferences if you describe what you enjoy about them. Name them for your stylist; for instance, write "Swooning over this color," "These bangs are amazing," or "This part is on point." Moreover, it's perfectly fine if you prefer something in pictures but not so much on yourself—a trial is what it's there for, after all!
Arrange your wedding hair and makeup trials together
To observe how everything turns out, if at all feasible, try to arrange your hair and makeup appointments for the same day. Also, it will provide you with a much-needed vacation from the stress of wedding planning. It also advised scheduling a fun activity for the evening so that you can flaunt your expertly applied glam. Go out for drinks or host a supper for friends or family. Remember to snap lots of photos!
Notice the parts in previous appearances that you didn't like.
Have absolutely no idea how to describe your preferences? Putting into words what you do not want is another effective strategy for communicating what you're after. Have you ever felt self-conscious about your appearance at a wedding party? Explain to the stylists why you had that feeling. If your stylists are aware of what to avoid, your trial will go much more smoothly and you won't have to wait till every look is complete to decide what you dislike about it.
Purchase hair extensions and accessories beforehand
Bring relevant accessories like an airbrush (if you have) during your wedding hair trial so the stylists will be aware of what they will be working on your wedding day. If you're attracted to pictures of long, thick hair but have short, thin hair instead, think about buying clip-in extensions. They give off a fuller appearance and are simple to incorporate into your own hair. And after your trial, what happens if you decide to use a headpiece or a hairpiece? Simply inform your stylist so they can plan how to include it into your look.
Have realistic expectations
To avoid disappointment and frustration during your wedding hair and makeup trial, it's important to have realistic expectations. You can bring inspirational photos from Instagram or Pinterest to show your stylist, but keep in mind that the final look may not be an exact replica of those photos. Your stylist may have a number of suggestions based on your features and personality, so be open to their ideas. It's also important to communicate clearly about what you like and don't like, any changes you would like to see, and any skin sensitivities or allergies you have. Don't expect perfection, as the trial is a practice run and the final look may differ slightly. Finally, allow plenty of time for the trial so your stylist has the time they need to create the perfect bridal look for you. With realistic expectations, clear communication, and an open mind, you'll be well on your way to feeling confident and beautiful on your wedding day.
Don't take any drastic actions.
Be cautious even if your trial is indeed a great chance to explore with various looks. You shouldn't tint your hair a totally different color at home or apply brand-new makeup that makes your skin break out. Leave all requested adjustments, no matter how major or tiny, to the pros. But remember to stay on schedule. If you dislike the results, don't take drastic action with such little time remaining. Prior to a major function, one should never modify their hairstyle or cut their bangs. The same goes for wearing your hair in a style you know it won't endure. (Example: wearing curls when your hair is naturally stuck straight).
If you were unhappy with the first trial, schedule another one.
Many women who are brides-to-be will only require one beauty trial to perfect their look. Nonetheless, it is advised to set up another one if you weren't completely satisfied with your appearance following your trial. You might not have felt like yourself, it might have been too much, or there wasn't enough completeness. No matter how small the change, it shouldn't be done the morning of your wedding. In order to ensure a flawless wedding morning, call your professional for your beauty services and arrange a follow-up.
What to consider when choosing a bridal hairstyle and makeup look
Choosing a bridal hairstyle and makeup look is an important decision that can impact the overall look and feel of your wedding day. Here are some key factors to consider when making this choice:
Hair texture and length. Some hairstyles look best on hair that is longer, finer, or that holds curls very well, while others work best on thicker or more textured hair. If the style you're considering is doable for your hair type, your stylist may help you identify that.​​​​
Location and Weather. The location and weather of your wedding can also impact your hairstyle and makeup choices. For example, if you're getting married in a hot and humid location, you may want to opt for a hairstyle that is less likely to frizz or become undone.
Your dress. Along with enhancing your natural attractiveness, your makeup and hair should match the design of your gown. Whether your style preference—boho, glam, or classic—you should have a consistent look.
Personal Style. Your personal style and preferences should also be taken into account. Choose a hairstyle and makeup look that make you feel confident and comfortable, and that reflects your personality.
Wedding Theme and Style. Consider the theme and style of your wedding. A formal, traditional wedding may call for a more classic hairstyle and makeup look, while a bohemian or beach wedding may be more suited to a relaxed, natural style.
Ask for assistance from your stylists when it pertains to styles, color palette, and other things. They are professionals and can provide knowledge you might not have thought about!
Consider these details when it comes to wedding hair and makeup
When it comes to wedding hair and makeup, there are several details to consider to ensure that you look your best on your special day. Here are some of the important things to keep in mind:
Research and book in advance. Start researching and booking your hair and makeup artist well in advance to avoid last-minute panic. Take your time to find the right stylist who understands your preferences and can create the look you desire.
How many attendants will you have, and who will provide which services for the group? Everyone from moms, grandmothers, junior bridesmaids, home party guests, and flower girls shouldn't be overlooked.
Bridesmaids Hairstyles. Would you want an updo for your bridesmaids' hair or a half-up/half-down style? Updos frequently need more time, and that time must be factored in. You just need to make your decisions a lot before it's time to finalize makeup and hair plans and costs. Several brides want all bridesmaids to have a uniform style when it comes to makeup and hair, while others aren't picky.
When will your ceremony begin, and when should the photos start? To determine their start time, the hair and makeup artists need to know what time they must finish.
You'll need to have a backup place in mind for getting ready if you don't have access to the venue until a specific time and hair and makeup must begin earlier. A hotel is indeed a popular and practical choice; think about renting a house instead! In comparison to hotels, they frequently provide considerably more room to roam around and natural window light, which also makes for gorgeous photos!
When to book bridal hair and makeup
It's never too early to set up a date if you've got the heart set on a specific hairstylist or makeup artist! Several artists sell out a year ahead. Depending on who you're booking, you could make reservations 3-6 months before your big day. Beauty salons with a large staff of stylists can frequently handle numerous weddings on a given date. So don't wait until the last minute; book a person three months in advance!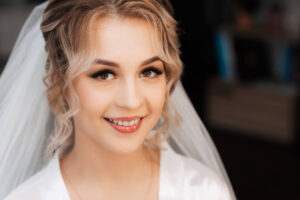 Tips for Choosing the Right Look
When choosing the right look for your bridal hair and makeup, it's essential to consider a few key factors that will help you feel confident and beautiful on your special day. Here are some tips:
Consider Your Wedding Style. Your wedding style can provide excellent inspiration for your hair and makeup look. If you're having a beach wedding, for example, you might opt for a natural, beachy look with loose waves and minimal makeup. If you're having a formal, black-tie wedding, a classic updo and bold makeup might be more appropriate.
Think About Your Dress. Your wedding dress attire can also influence your hair and makeup choices. If you have a strapless gown, for example, you might choose a dramatic updo to showcase your shoulders and neckline. If you have a vintage-inspired dress, you might opt for a retro hairstyle and classic makeup.
Consider Your Personal Style. While it's important to consider your wedding style and dress, it's also essential to choose a hair and makeup look that reflects your personal style. If you typically wear your hair down and minimal makeup, you might not feel comfortable with a dramatic updo and bold makeup. Choose a look that makes you feel like the best version of yourself.
Consult with a professional. Working with a professional hair and makeup artist can be an excellent way to ensure that you achieve the look you want. Schedule a trial run before your wedding day to try out different styles and make any necessary adjustments.
Keep Your Venue and Weather in Mind. Finally, consider your wedding venue and weather when choosing your hair and makeup look. If you're getting married outside in the summer, for example, you'll want to choose a style that can withstand the heat and humidity. If your wedding is in a rustic barn, you might opt for a more natural, organic look.
By considering these factors, you can choose a bridal hair and makeup look that makes you feel beautiful, confident, and true to your personal style.
Conclusion
Booking bridal hair and makeup is a crucial aspect of wedding planning that requires thoughtful consideration. With so many details to take care of, it's easy to overlook the importance of securing a skilled and experienced hair and makeup artist. However, with proper planning and a clear understanding of the timelines involved, you can avoid last-minute stress and ensure that you look and feel your best on your special day. Whether you're booking a year in advance or just a few months before your wedding, remember that finding the right hair and makeup artist is a key step in creating a memorable and beautiful wedding experience.
As a bride to be, your wedding day is one of the most important events of your life, and you want to look and feel your best. That's why it's important to book your bridal hair and makeup as soon as possible at Bridal Express Hair & Makeup Las Vegas. We also do offer mobile or on-location for both hair and makeup services. Our team will be eager to work with you. Don't wait until the last minute and risk missing out on the perfect artist for your special day.
For more information and questions regarding package deals and other services, don't hesitate to set up an appointment or consultation with us or call us on (702) 326 0619.
For more information on how https://hairandmakeuplasvegas.com/ can help you on your Bridal Hair and Makeup, please contact us at (702) 326 0619, or visit us here:
Bridal Express Hair & Makeup Las Vegas
3150 N Soft Breezes Dr, Las Vegas, NV 89128, United States