What Are The Benefits Of Choosing Airbrush Makeup
Have you ever thought about how Hollywood actresses maintain their flawless look while walking down the red carpet? It's not simply about having good genes or spending a lot of money on skincare. It's often due to airbrush makeup; an effective cosmetic application procedure. The best part is that airbrush makeup is also available for weddings.
After all, your wedding day is the one day when you want to appear and feel like the most gorgeous, modern version of yourself. An airbrush application, when done correctly, produces a flawless result.
So, why should you choose airbrush makeup? Keep reading to find out the answer.
What is Airbrush Makeup?
To begin with, it is necessary to have a basic understanding of what airbrush makeup entails. Airbrushing refers to a technique that employs compressed air to delicately and evenly apply a thin spray of foundation, contour, highlight, and blush to the skin.
Airbrushing is applied with a specific applicator pen or gun, as opposed to the traditional or normal application of makeup. Airbrush makeup is available in several colors and formulations, with some being silicone-based and others being water-based.
Reasons Why You Should Choose Airbrush Makeup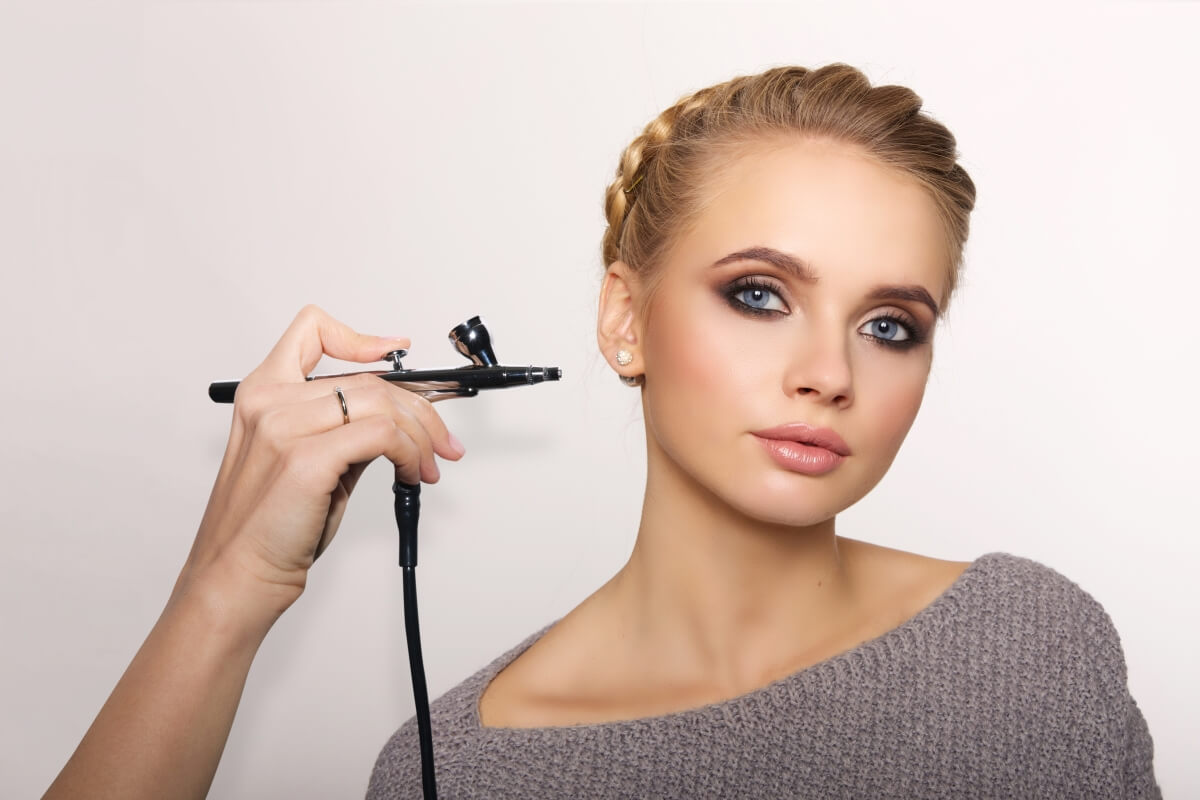 It is suitable for all skin types
Using cosmetics or products that aren't right for your skin type is one of the most prevalent makeup mistakes. If a person with dry skin opts for non-hydrating matte makeup, the result will be spotty.
The advantage of airbrush makeup, though, is that it is suitable for all skin types. This is because this approach does not contact the skin, instead it forms a distinct layer to cover it. As a result, whether you have dry, oily, or mixed skin, airbrush makeup can help you.
Natural appearance
Having various hues on the face versus the body is a thing of the past thanks to the ability to layer and suit your skin tone. Full coverage is provided via airbrush makeup, which is ideal for all types of skin.
Resistance to water
It is impossible to anticipate the weather (or whether or not happy tears will rain at any particular time). Thankfully, your makeup will last if either of these things happens. Airbrush makeup is waterproof, so whether you're sprinting for cover or weeping, your makeup will still be intact.
Layering is simple
You want to seem as wonderful in real life as you do on screen. That means you don't want to look like you've been wearing a heavy makeup mask all day.
Fortunately, with airbrush makeup, just little makes a big difference, and many brides report they don't even notice they're wearing it. Your beautician has complete control over the amount of product they use, allowing them to apply more coverage only where it's needed. It's also quite easy to layer the makeup because it dries quickly.
It gives a flawless appearance
There's no excessive, caked-on foundation with even coverage. Everything goes on evenly and easily, which is ideal for photos. Airbrush makeup gets you ready for the spotlight on Instagram.
Wrapping Up
Airbrush makeup may be used on more than just your eyes, cheeks, and forehead. It can be used to conceal scars and other imperfections on your body. Hence, you don't need to stop applying the makeup in the neck region.
Use airbrush makeup for your next event. You will notice the change right away, and the proof will be seen in the pictures that you take.
If you want to learn more how https://hairandmakeuplasvegas.com/ can help you with What Are The Benefits Of Choosing Airbrush Makeup in Las Vegas, Contact today or visit our website!