Looking For The Perfect Hairstyle For Valentine's Day?
Christmas is in the rearview mirror and Valentine's Day is right around the corner. It's the perfect excuse to buy a new dress and have your hair professionally styled. Whether you're looking to impress a secret admirer or you're planning a big date night with the bae; there are a dozen different reasons to bring out your best on this romantic holiday.
Are you looking for the perfect hairstyle for Valentine's Day? We don't blame you at all. As a matter of fact, we're here to help. Our staff has more than 15 years of experience styling hair in the Las Vegas area and Valentine's day is certainly one of our favorite holidays. Don't add unnecessary stress by taking the DIY route. Instead, schedule an appointment with our professionals and let us handle the hard work while you relax. Our stylists will come to you.
Not sure which is the perfect hairstyle for Valentine's Day? We've got you covered there too. Here's our top list of hairstyles that are sure to get you noticed this February 14th.
1. The Half-Up Braid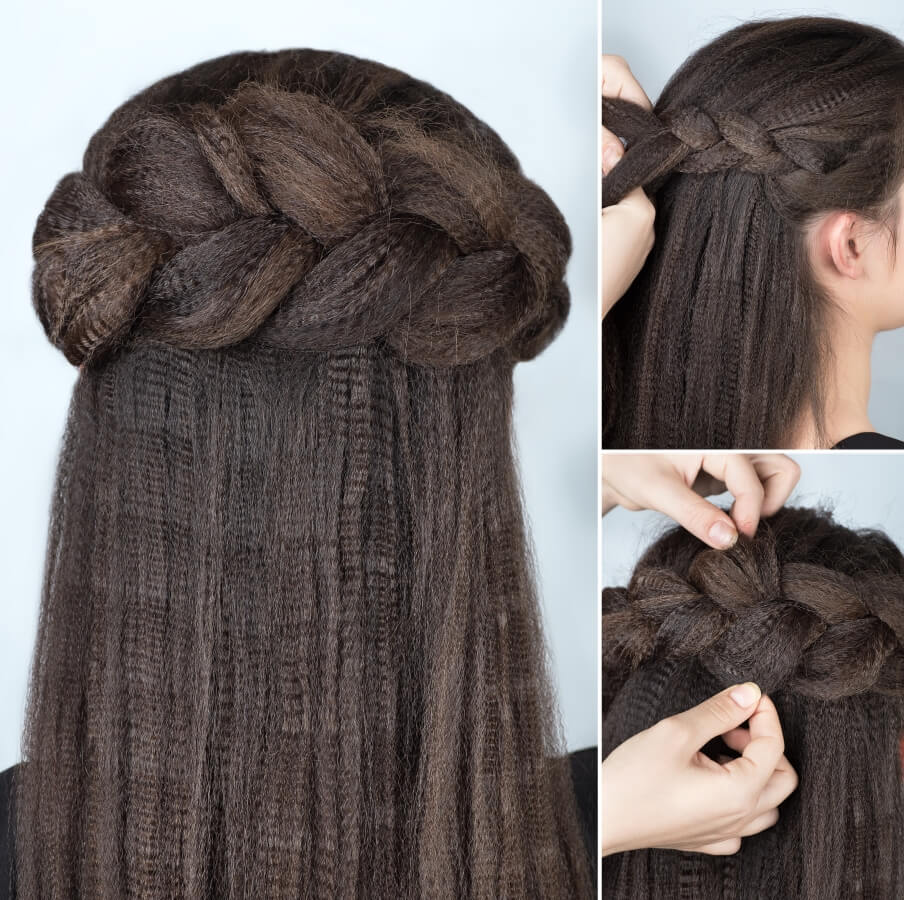 To go up or down? That is the question. But it doesn't have to be. You can defy traditional norms with an impressive half-up braid. This normally includes two separate three-strand braids that are brought up and wrapped around the back of the head. The rest of the hair remains down and can be styled independently. We recommend some classical waves to add even more glam on date night.
What if you want even more Valentine's Day flair? You can make the braid more extravagant by braiding both higher on the sides and creating an arch back towards the middle. This creates the appearance of a heart made from braids. The half-up braided heart is the perfect hairstyle for someone who wants to fully embrace the charm of Valentine's Day.
2. French Braid Crown
The half-up braid mentioned before is often referred to as a crown. The standard crown is made from two three-strand braids. However, Valentine's Day is a special occasion and you might want something more complex. After all, if you're having a professional style your hair, then complexity is not a real issue. That's why we also recommend something more advanced like a French braid crown.
Everyone loves a French braid, but nobody likes trying to do one themselves. It's very easy to lose yourself in the braiding process and end up with something that's closer to a three-strand than an actual French braid. But when done correctly by a professional, a French braid screams "class". Include some hair extensions for added volume and you'll be getting compliments all day long.
3. Blow Out Hairstyles
If you have long, beautiful hair, then why not keep it down and show it off? Blow out hairstyles are some of our favorite because they are versatile, natural, and always look incredible. The blow out process is very straightforward. We wash your hair, brush it away from the scalp, blow dry it, and style it as we go. It's a relaxing experience and the perfect time to discuss your Valentine's Day plans with your stylist.
We can perform a wide range of different blow out hairstyles and it's a perfect fit for almost anyone with long hair. It doesn't matter if your hair is straight or curly. A blowout will add depth without needing to rely on any sort of extensions. Our technique prevents your hair from becoming greasy and will usually maintain its hold for at least two days.
And don't worry if you feel like there isn't enough hair for a proper blowout. Our professional hair extension services will put you on an even playing field with the lucky women who still have a head full of long, thick hair. There's no reason not to treat yourself with a blowout this holiday.
Let Us Take Care Of You
Deciding on the perfect hairstyle for Valentine's Day is the hard part. Actually getting the hairstyle is much easier. All that you need to do is contact us and schedule an appointment. We'll send our professional stylist to you with all of the equipment, hair products, and extensions needed for the job.
Visit Bridal Express Hair and Makeup. Bridal Express Hair and Makeup have 15+ years of experience in doing our craft and are more than equipped with the equipment and staff to have the best hair and makeup experience on your wedding day.
Call us at (866) 216-4534 or text at (702) 326-0619 and schedule an appointment for an expert Hair and Makeup service today. We look forward to your call!
For more information on how https://hairandmakeuplasvegas.com can help you on Looking For The Perfect Hairstyle For Valentine's Day?, please contact us at (866) 216-4534 or text at (702) 326-0619, or visit us here:
Bridal Express Hair & Make-up
3150 N Soft Breezes Dr Las Vegas, NV 89128