How to Style Your Hair Extensions for a Natural Look
Hair extensions are a great way to change the way you look rapidly. Your hair can gain volume, length, and even color, thanks to them. It might be challenging to create a natural-looking hairstyle with hair extensions. In this article, we'll look at some tips for creating seamless, natural-looking hairstyles with hair extensions. Also, we will include how you could style your hair extensions if you need clarification.
What kind of hair extensions are best for a natural look?
When achieving a natural-looking hairstyle with hair extensions, the key is choosing extensions that blend seamlessly with your natural hair. Here are some types of hair extensions that are best for a natural look:
Clip-in Hair Extensions:

Clip-in hair extensions are an excellent option for those who want a temporary solution for adding length or volume to their hair. They are easy to install and remove and can be clipped in or out in minutes. Look for clip-in extensions that come in multiple wefts, which will allow you to customize the placement of the extensions for a natural look.

Tape-in Hair Extensions: Tape-in hair extensions are popular for those who want a longer-lasting option. They are installed by applying wefted hair to a section of your natural hair using special tape. Tape-in extensions lie flat against your scalp, making them look more natural than other extensions. You can reuse them multiple times, making them a cost-effective option.
Sew-in Hair Extensions:

Sew-in hair extensions are another option for a natural-looking hairstyle. They are installed by braiding your natural hair into cornrows and then sewing the weft hair onto the braids. This method can be time-consuming and requires a skilled stylist, but the results can be stunning and long-lasting.

Microbead Hair Extensions:

Microbead hair extensions are installed by attaching tiny beads to your natural hair and then threading the weft hair through the beads. This method is gentle on your natural hair and allows for natural movement and flow. Microbead extensions are also easy to maintain and can be adjusted as your hair grows.
The best type of hair extension for a natural look will depend on factors like your hair type and the look you want to achieve. Consult Bridal Express for your professional hair stylist; we can help you choose the best option for your hair and lifestyle.
How to Style Your Hair Extensions for a Natural Look
Here is the process of how you can style your hair extensions for it to look natural.
Preparing Both Your Hair and Extensions
It's crucial to thoroughly prepare your hair and extensions before styling them. Here is a little advice:
Before styling your hair extensions, washing and condition them.

Spray them with a heat protectant to avoid heat-style damage to the hair and extensions.

Use a detangling brush to remove any tangles or knots from your extensions gently.
Blow Drying Your Extensions
It's a terrific approach to add volume and achieve a natural look to blow-dry hair extensions. How to accomplish it is as follows:
Make portions in your hair, then clip the top ones out of the way.

Utilize a round brush to blow dry the hair extensions from the bottom of the head up. Roll the brush down its length while blowing hot air into the hair.

Release the top pieces and continue with the blow-drying once you have done blow-drying the lower sections.

Use a boar bristle brush to remove flyaways and produce a natural-looking finish.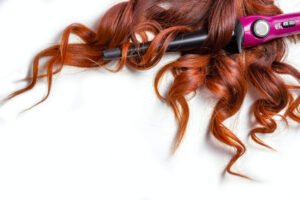 Curling Your Extensions
Your hair can get volume and structure by adding curls to your hair extensions. How to accomplish it is as follows:
Section off the tops of the pieces of your hair and clip them out.

Curl little pieces of your hair extensions with a curling iron. Wrap the hair around the curling iron while holding it vertically and away from your face.

After you've curled every section, gently separate the curls with your fingertips to give them a more natural appearance.

Finally, use a small quantity of hairspray to keep the curls in place.
Straightening Your Extensions
Straightening your hair extensions can achieve a sleek and put-together appearance. How to accomplish it is as follows:
Divide your hair and clip your top sections out of the way.

Straighten the hair extensions starting from the bottom of your head with a flat iron. Run the flat iron along the length of a tiny portion of hair while clamping it down, smoothing it off as you go.

After straightening the bottom parts, release the top sections and carry out the same procedure.

To remove any flyaways and provide a natural finish, use a brush made of boar bristles.
Braids and Updos with Extensions
Hair extensions can also make beautiful braids and updos. How to accomplish it is as follows:
Make portions in your hair, then clip the top ones out of the way.

Make a ponytail out of the bottom sections of your hair.

Add hair extensions and fasten them in place with bobby pins.

Create the braid or updo of your choice, adding extensions as necessary.

Apply a bit of hairspray to seal the style by completing the process.
Avoiding Common Mistakes
Avoiding several common styling errors that can make your hairdo appear unnatural when styling hair extensions is crucial. Here are several things to stay away from:
Overusing extensions:

Overusing extensions can give your hairdo a fake, unnatural aspect. Limit the number of extensions you use to add length and volume.

Making a wrong color choice:

Make sure the extensions you purchase match the coloring of your natural hair, whether blonde or balayage. Your hairstyle may appear false if you use light or dark extensions.

Neglecting to take good care of your extensions:

Your extensions must be appropriately taken care of to keep their appearance the same as your natural hair. Make sure to wash, condition, and untangle them regularly.
How To Make Hair Extensions Look Real In Short Hair
Here are some steps you can take to make your hair extensions look more natural in short hair:
Choose the correct type of extensions: There are different types of extensions available, such as clip-ins, tape-ins, and sew-ins. Clip-in extensions are the best option for short hair, as they are easy to apply and remove. Also, choose extensions that match your hair color and texture.

Blend the extensions with your natural hair: To make the extensions look more natural, blending them with your natural hair is essential. To do this, start by sectioning your hair and backcombing the roots of the sections where you'll apply the extensions. That will create a base for the extensions to sit on and blend in with your natural hair.

Cutting and styling the extensions: Once you've applied the extensions, it's crucial to trim and style them to blend in with your natural hair. You can use a razor to thin out the ends of the extensions and make them look more natural.

Use hair products: Using hair products such as hair spray and styling mousse can help to hold the extensions in place and make them look more natural. You can also use a flat iron to straighten the extensions or a curling iron to add waves and texture.

Take care of your extensions: It's crucial to take good care of your hair extensions if you want them to last longer and appear more natural. Avoid harsh hair products, wash them too often, and brushing them regularly to prevent tangling.
Tips On How To Style Your Hair Extensions To Look Natural
Many women opt to wear hair extensions to give their hair more length and volume. Extensions may also be an excellent opportunity to try various colors and fashion trends without committing long-term. But one of the most frequent worries about extensions is that they'll seem fake or unnatural. 
Thankfully, you may use several styling options to make your extensions look natural. Here are some tips on how to style your hair extensions to look natural.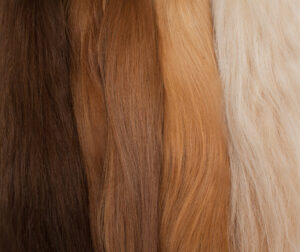 Choose the Proper Color
Selecting a color that closely reflects the hair color is one of the most crucial things you must do so that your hair extensions look natural. For instance, if you have blonde hair, go for blonde extensions rather than dramatic black or red ones. You can get a seamless, convincing merge by matching the extension color, highlights, and lowlights with your own skin tone. 
Choose a style that complements your face shape.
It's crucial to consider the shape of your face while selecting a hair extension style. For example, if you possess a round face shape, avoid designs that add excessive volume to the sides because they will emphasize how round your face is. 
Choose a style that adds volume to your hair's length or at the crown instead. It will contribute to the illusion of a facial shape that is longer. Trust us—it truly does make a difference! 
Use high-quality hair extensions.
Invest in hair extensions made from natural human hair for a high-quality result. Synthetic hair extensions can look fake and are harder to style and blend with your natural hair.
Backcomb Your Hair Before Applying Hair Extensions
The best approach to maintaining clip-in hair extensions in place while you're wearing them is to backcomb your hair.
Select a piece of your natural hair to serve as the base for your clip-in extension. Using a fine tooth comb, push the hair into the root. Repeat this several times. It will provide a stronger foundation for the extensions' clips to cling to.
Not only are drooping hair extensions painful, but they may also become visible. You can keep your hair secure and safe throughout the day and maintain the most natural-looking appearance by backcombing your roots.
Avoid using too many products.
While it's tempting to use many products to keep your hair looking its best, too much product can make your extensions look greasy and unnatural. Use a light mist of hairspray or serum to keep your hair looking great without weighing it down.
Don't Forget Your Hair
Take care of your hair while concentrating on making your hair extensions look natural. Use heat-protectant products before styling, shampoo, and conditioner frequently, and refrain from over-processing your hair with harsh chemicals. Even when you aren't using extensions, your natural hair will always look its best if you take good care of it. 
Have a stylist trim the extensions to complement your haircut.
If you're like most people, your hair has a dynamic cut of its own. The placement of hair extensions can occasionally appear strange.
Fortunately, a hairstylist can trim the hair extensions so that they blend perfectly with your natural hair.
It can help you achieve the extra length, volume, and body you desire without worrying about seeming to be wearing hair extensions.
Conclusion
Although styling hair extensions and achieving a natural look can be difficult, achieving a smooth and lovely hairstyle with the appropriate methods and supplies is possible. You may get a natural-looking hairstyle using your hair extensions by using the advice provided in this article, and you can also take advantage of the many advantages they offer.
Transform Your Look with Our Hair Extension Services!
If you're looking for a way to achieve a natural look with your hair extensions, plenty of tips and tricks can help. But if you prefer having a professional stylist that will achieve and transform your desired look, Bridal Express Hair & Makeup Las Vegas is here for you. Whether it is clip-in, sew-in, or tape-in hair extensions, we will help you with everything to achieve your desired look. 
For more information and questions, please call us at (702) 326-0619.
For more information on how https://hairandmakeuplasvegas.com/ can help you on your Hair Extension, please contact us at (702) 326 0619, or visit us here:
Bridal Express Hair & Makeup Las Vegas
3150 N Soft Breezes Dr, Las Vegas, NV 89128, United States