How To Choose The Right Wedding Makeup Style
It is advisable to choose your makeup look in advance if you intend to wear it to your wedding. But how do you even start looking? We have experts to explore how to pick the ideal wedding makeup style (including the top mistake they encounter while choosing your wedding day glamour). We have excellent news if you're feeling overrun by the choices available. You can focus your search by taking into account a variety of things. What type of makeup look that you should wear on your wedding day, for instance, can depend on the weather prediction and your attire.
Are you prepared to start your glam? In this article you may learn more about selecting your wedding makeup style below.
How to Choose Your Wedding Makeup Look
Finding the perfect wedding makeup look doesn't have to take hours of online browsing. We advise using the plans you've previously made as motivation. Of course, you are free to wear whatever makeup style you like. But if you are having difficulties choosing, these suggestions might be useful.
Three words to describe your wedding day.
The first stage is to summarize the wedding in three words. If you want to achieve a casual beach look, avoid looking overly made up. Instead, choose simple, natural makeup to go with the breeze.
Consider just three words that best represent what you'd like to see in order to concentrate your imagination. You can use it to help you get the ideal bridal makeup look.
Choose Your Makeup Based on Style
Start with appealing looks if you're having difficulties with the sheer amount of makeup options during the big day. Search for bridal makeup on Google, Instagram or Pinterest and save or note the styles you prefer.
Once you have a selection of pictures, you can browse them and look for a common theme, like dewy skin. Blush in a feminine shade? lovely, lengthy eyelashes? The secret to discovering your purpose, whatever it may be, is to concentrate on the qualities of the subject that are common.
Book a wedding makeup trial appointment
To avoid unpleasant surprises on your wedding day, don't forget to arrange at least one wedding makeup trial. Like most things, makeup does not come in a "one size fits all" format. It's okay if what you're seeing in Taylor Swift or Chrissy Teigen doesn't look good on your features. To find out what works for you, let your makeup artist try out a few looks even ones you don't typically wear.
Consider Wedding Season
Although it might not appear like that, the weather prediction might affect how you want to look in your wedding makeup. In a lighter, hot climate, water-resistant cosmetics are preferred.
If your wedding occurs on a chilly winter day, use skin-hydrating creams to keep your skin looking youthful. You can consult a professional makeup artist for assistance on how to best accentuate your natural beauty once you know the weather forecast for your wedding day.
The bride must select a foundation which is suitable for such weather during her wedding day. In the winter, the perfect foundation is one that doesn't appear flat or dry, while in the summer, the best foundation is one that doesn't get overly glossy too quickly.
You should choose a theme that will last because your wedding may last all day and all night. Try an oil-controlling, water-resistant primer if your wedding occurs during the summer; if it takes place in fall or winter, use a foundation with greater coverage.
Choose a Comfortable Lipstick or Balm
The lip is important in this situation. When it comes to makeup, we tell our brides to spend their time and put on as many different shades as they can, since "when you know, you know!" You need a solution that can be used all day long.
Choose your makeup based on your dress
It's normal practice to take inspiration from your gown's silhouette while designing your bridal look. If your wedding dress includes lace and flowing fabric, think about going for a soft, romantic look; if it's slinky and seductive, choose a smokey eye; and if it's unconventional, choose bright makeup.
Your makeup choice may be influenced by your wedding day attire. Start your creative process with the clothing you're wearing. The entire look will be cohesive as a result. A cat-eye and red lips are ideal for a dressy evening out, while a natural makeup look would go well with a light jumpsuit.
Celebrity Inspiration
Finding the cosmetics look that will go best with your attire and the event you're attending may be done quickly and easily with this strategy. If the future bride wants to feel secure and at peace in her own skin during her wedding day, she must be aware of what she finds appealing. Compare and contrast your favorite red carpet moments after gathering them. Do you have a tendency to be captivated by their soft, smokey eyeshadow? Their stunningly red lips? Once you decide the features you prefer the most, you should personalize them.
Look for balance
If you want to get a smokey effect, keep your lip color natural and your skin makeup elegant. Keep the remainder of the makeup minimal if you'd like to highlight your gorgeous lips. Because it lasts longer and requires less upkeep, use a matte lipstick.
Hydrate thoroughly before the big event
This beauty tip is crucial all year long, but it becomes even more crucial as the wedding day approaches. You can apply makeup more easily if your skin is properly hydrated.
Carry Various Products Throughout the Day
Always keep blotting paper or translucent powder on hand to decrease shine. Blotting sheets, pressed powder in such a compact with such a mirror for touch-ups on the go, and lip gloss or lipstick are all necessities to have with you.
Be certain that your foundation fits
Select a foundation shade that is similar to your skin tone or the color of your neck if you want it to look natural. You are going to be the subject of innumerable photos on that day; you must at all costs avoid misaligning your neck and face.
Moisturise
A tested way is to use moisturizer as a barrier prior to applying self-tanner. Apply problem areas before applying makeup to stop them from becoming darker.
Always use lotion carefully; excessive use will make your self-tan fade faster. Use a moisturizer to integrate the tan into your hairline, heel, and wrist fold to complete its natural appearance. Together, your moisturizer and tan are the paint on a canvas, and we're producing a flawless work of art.
Ask Family for Advice
If you're having problems deciding on such a wedding makeup style, trust the advice of those people close to you. Because they'll tell it how it is, your loved ones will never lead you wrong. Gather a few of your favorite photos, then send them to your loved ones. If you're having trouble choosing between two or even more possibilities, mix up pieces of various looks to create a look that is totally you.
Go Classic
The experts concur that classic makeup is always preferred for weddings. Old-school Hollywood elegance was subtle and emphasized one standout facial feature. In order to achieve a classic, chic, stylish look, the focus was always on either the lips or the eyes, never both. If you're struggling to find wedding makeup ideas, think about turning to the past for seeking direction because vintage styles never go out of style.
Prioritise Preferences
If you're stuck, you could use any or all these as guidelines. These are merely some suggestions to help you get started with your wedding day makeup look; your attire and makeup style do not have to match. If you feel like it, you should absolutely opt for such dark purple lips, neon eyeshadow, and glowing skin. Put on any makeup that makes you feel very much like yourself, because nobody else's opinion matters.
Wedding Makeup Mistakes to Avoid
There are a few mistakes you'll want to stay away from while choosing your wedding makeup look. Our pros showcase all of the worst wedding makeup gaffes they've come across throughout the course of their careers.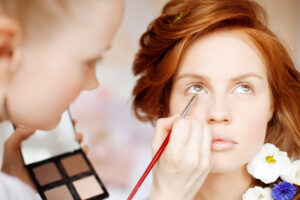 Skipping Wedding Makeup Trial
A makeup trial is required prior to any professional makeup appointment. You can precisely define the look you want to achieve and rule out whatever looks or ideas you don't feel comfortable with by scheduling a makeup trial. You can check the durability of the wedding makeup look through a makeup trial. You can check to see whether the foundation you chose appears decent in images or if the waterproof mascara you selected is indeed waterproof. Additionally, it's a wonderful chance to get to know your wedding makeup artist well before the big day.
Not Prioritizing Skincare
It's a mistake to neglect any skin care routine because effective makeup starts with such a pretty foundation. For the radiant glow every bride deserves, having an efficient skincare routine which addresses your individual skincare needs and makes you glow is crucial. The lead-up to your wedding is a wonderful time to establish a routine, and also, the earlier you get started, the more radiant your wedding will be.
Assuming Your Wedding Makeup Will Look similar to Someone Else's
Have you ever visited a salon with a photo of a celebrity's haircut just to discover that it completely differs from you? The same holds true for your bridal makeup style. It's erroneous to assume that your makeup will appear exactly the way it does on a celebrity. For example, a dramatic smokey eye that a bride saw on a celeb's night out surely won't look similar to a couple having a beach wedding. Your skin type, bone structure, and environment can all affect how your makeup appears. But that's where getting a pro in handy can help. A wedding makeup artist may always create a look that is modeled on a celebrity look and be made to complement your overall appearance.
Using Regular Makeup Products
The average length of a wedding means that your products will be put to a lot of use. To minimize touch-ups, it is important to use makeup that is long-lasting and waterproof. For your wedding day, waterproof eyeshadow, eyeliner, and mascara are essential since they will remain put through any tears you may shed.
Can I Do My Own Makeup for the Wedding?
For the big day, you'll be free to do your own makeup. However, it is strongly suggested that a professional makeup artist should be employed for the occasion. They are experts in their field, to start.
Even if you are a liquid eyeliner pro, these experts can flawlessly use every product for a finished look. In addition, if you're planning an after-party, they'll provide high-performance items that match the skin tone and last throughout the reception, ceremony, and party. You won't have to worry about finishing it all on time or making an error on your wedding day if a professional is in charge.
What Kind of Makeup Do I Need for My Wedding?
You generally won't need to bring any if you have a professional makeup artist do your makeup for your wedding. They frequently bring their own makeup kit that is filled with products that experts in the field have approved as being secure and efficient. But if there is something you absolutely must have, don't wait until the big day to buy it!
If you intend to bring every tool you use, discuss it in advance with your wedding makeup artist. For any last-minute touch-ups, powder and your preferred lip product ought to always be close by.
Which Bridal Makeup Should I Wear?
Because there are so many options, choosing a wedding makeup look can be challenging. To help you decide, we've put together a few recommendations.
Eye Colour
We heartily recommend matching your bridal makeup to the color of your eyes. In both real life and pictures, using the appropriate eyeshadow and eyeliner colors can truly bring out the color of your eyes. Brown eyes are emphasized by colors like bronze and purple, whereas blue eyes are emphasized by turquoise, silver, and copper.
Hair Colour
Your hair color might serve as inspiration for your wedding makeup. For instance, because their hair color already does an excellent job of defining their faces, brides-to-be having dark hair find it simpler to pull off natural bridal makeup.
To achieve a dramatic look which complements a dark hair color, explore with a smokey eye as well as a bold lip. For brides with red hair, warm colors or pink tones that match your blonde hair will appear best.
If you have colored hair, we suggest consulting your makeup artist. Furthermore, these are only suggestions. You should feel comfortable wearing any makeup style of your choice, regardless of the color of your hair.
Venue
Take action with the nuptials you've already made. The setting you select can affect the way you want for your wedding makeup look. Some wedding venues, like a beach wedding, could call for a more stylish makeup style. The glitzy cat-eye, though, might be more comfortable in a casual ballroom setting.
Personal Style
The best approach is to base your wedding makeup choices on what you enjoy wearing. Can we typically rely on you to walk around with a bright red pout? So you might want to consider wearing one on a special day.
On your wedding day, don't be afraid to wear your favorite daring eyeshadow. If wearing a lot of makeup on your wedding day isn't your style, there are plenty of casual wedding looks that you can choose from.
Tips For Doing Your Own Makeup
While we suggest working with a competent makeup artist on your wedding day to get the look you want, many individuals opt to DIY their beauty look for things such as a rehearsal dinner, wedding shower, or other pre-wedding events. What you should know is as follows.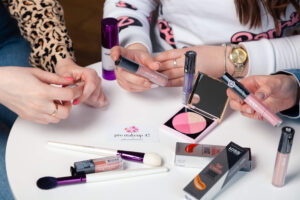 Invest in the proper tools
Invest in sponges and brushes to aid in applying your products to set yourself up to succeed. Brushes are a terrific purchase because they last forever with appropriate care, and you couldn't do any eye-makeup looks without them. Additionally, you'll be able to use those tools for other special occasions you attend following your wedding. A BeautyBlender sponge is advised since it will enable you to obtain a flawless finish.
Fix your skin care routine
It is worthwhile to spend on your skin care because your beauty will serve as the backdrop for your wedding makeup. It is the first step to having great skin and makeup that lasts all day. The present isn't the time to conduct a vast array of product trials. Instead, get back to the fundamentals and establish a regular skincare routine. Obtain additional assistance from a board-certified dermatologist if necessary.
Keep it simple
Keep things simple if you're applying your own wedding makeup. The very last thing that you need on your wedding day is more stress, as there are already numerous things to consider. To keep the makeup bag (as well as your mind) clutter-free, use multipurpose products. If you're doing your own wedding makeup, a monochrome look is fashionable and simpler to pull off. The star of the show in this case is the multistick, specifically the Live Tinted Huestick. They can be thrown in your luggage for simple touch-ups and applied to the lips, eyes, and face. To utilize these, you don't need to be a skilled makeup artist.
Concentrate on a single facial feature
This tip has numerous benefits. First, emphasizing just one facial feature will make you appear balanced and timeless. The best makeup is timeless and elegant, whether it's an emphasis on the lips or the eyes, especially when looking back at your wedding photos. However, following this advice certainly ensures a simpler design for you. You can concentrate on one area of your face instead of worrying about your entire face. If you're applying your own wedding makeup, concentrate on one aspect of your face that you want to highlight, such as your eyes, lips, or cheeks, and make sure it's pretty. This strategy also gives you a chance to, before your event, practice self-love. You can instantly feel more confident by focusing more on your stunning eyes or charming smiles.
Hire a pro
Despite the fact that you might be on your own for some wedding events, you may still hire a makeup artist. Many experts provide online consultations during which they may guide you through anything from what goods to choose to how to use them properly. You'll be able to confidently do your own wedding makeup look once you've mastered the basics.
Practice
Practice is essential if you're anxious about the results of applying your own makeup during your pre-wedding events. Once you've mastered the look, pay special attention to how it wears all day long and how it feels while wearing it. See how long your appearance lasts after doing it multiple times prior. In a few hours, did the eyeshadow go away? How well did the base hold up? Make any required revisions so that you are fully prepared for the event by the time it occurs by knowing exactly which products should be used and how you'll utilize them.
Tips for Making Your Wedding Makeup Last All Day and Night
Here are some tips for making your wedding makeup last all day and night:
Prep your skin. Before applying any makeup, make sure to cleanse, moisturize, and prime your skin to create a smooth base for the makeup to adhere to.
Use long-wear products. Look for makeup products that are specifically marketed as long-wear or waterproof. These tend to have a more resistant formula and will stay put longer.
Set your makeup. After applying your makeup, use a setting spray or powder to help it stay in place.
Blot and touch up as needed. Bring along blotting papers or a compact powder to touch up throughout the day and night.
Avoid oils and heavy creams. Avoid using heavy creams or oils on your face, as they can break down your makeup.
Keep your hair off your face. Tie your hair up or keep it away from your face to minimize the amount of rubbing and touching you do with your hands.
Hydrate regularly. Drinking plenty of water will help keep your skin hydrated and looking fresh.
Get plenty of rest. Good sleep and reducing stress can also help keep your skin looking fresh and radiant.
By following these tips, you can ensure that your wedding makeup stays put for the entire day and night, so you can focus on having the time of your life.
Conclusion
Brides aren't obligated to wear makeup, but those who do should pick a style in advance. There are numerous options, including natural, risky, vintage, classic, sophisticated, bohemian, and edgy. Your bridal makeup application will rely on the anticipated temperature and humidity. In hotter areas, lightweight, water-resistant cosmetics are more popular. For a summer wedding, a primer which controls oil and also is water-resistant is such a wonderful option; for an autumn or winter event, a foundation with a broader covering is preferable.
Understanding what the future bride finds attractive is crucial. Rank your most unforgettable red carpet moments in comparison to one another. Choose a matte finish for your lipstick if you want to get the most use out of it with the least amount of work. Always keep blotting paper as well as translucent powder on hand for quick touch-ups. Brush your teeth the night before the big day if you want them to look their very best in pictures.
For the event, it was advised that a qualified makeup artist be retained. Hollywood's earlier allure was more subdued and focused on drawing attention to a single prominent feature of a face. Usually, the mouth or eyes will attract someone's interest (never both). Most of the time, hiring a professional makeup artist ensures you won't even have to bring any. However, you should make your purchase right away if it is something you cannot live without.
The color of your hair can also serve as inspiration for your makeup. Depending on the environment, the wedding makeup you choose may differ. At weddings hosted by the water or other low-light locations, makeup ought to be less dramatic. No matter what color your hair is, you should feel comfortable wearing the makeup style of your choice.
Get your wedding makeup style with Bridal Express
Take the first step towards your dream wedding look with Bridal Express. Our experienced team of makeup artists will work with you to create the perfect makeup style for you, whether it is a modern, trendy, unique, vintage, simple or classic wedding makeup style for your big day. Book your appointment now and let us help you look and feel your best on your special day. Or call us on (702) 326 0619 for questions and more information.
For more information on how https://hairandmakeuplasvegas.com/ can help you on your Wedding Makeup, please contact us at (702) 326 0619, or visit us here:
Bridal Express Hair & Makeup Las Vegas
3150 N Soft Breezes Dr, Las Vegas, NV 89128, United States