How Can I Save Money on Wedding Hair and Makeup?
Take a minute to think about the expense before you go and hire professionals to do your wedding hair and makeup. You may possibly save a lot of money if you can figure out a way to stop or cut back on some of your expenses.
The typical price for hair and makeup on the wedding day ranges from the hundreds of dollars. Additionally, the costs can rise into the hundreds of dollars if you require a professional stylist on-call throughout the day, need more than one style, or desire a budget to spend for both the hair and makeup of an additional person.
So let's look at some example or a list of ways you might cut costs on your wedding day hair & makeup.
Ways of how can I Save Money On Wedding Hair and Make-Up
Plan beforehand and select your appearance
The brides always appear to be stunning. If you are thrilled about becoming a bride yourself, you definitely want to experiment with a lot of different type of looks.
Whatever your ideal wedding appearance, avoid making a style decision under pressure. When you walk into a salon and are presented with so many alternatives, it's simple to pick one that's pricey but doesn't even fit your style.
Have a specific message for your hair and makeup artist (or your friend). What kind of color scheme have you chosen for your  eyes, lips, and cheeks? Do you desire hair jewellery? A veil? Do you prefer one look for the entire wedding or would you prefer a different look for daytime and nighttime?
This will make it easier for you to avoid embracing every notion that is put forth.
Have a friend or family member do it for you
You probably have a friend who is extremely enthusiastic towards hair and makeup. They may agree to perform it for no charge or for a very cheap fee. You can exchange services with each other with that bride you find there if you visit beauty forums or site and are skilled at applying makeup personally. She will style you, and you will style her.
If you decide to DIY, practicing the look is crucial. To reduce the strain you will feel on your wedding day, schedule a few appointments where you can try out several looks.
Visit your preferred hair salon.
Go to the same hairstylist you've used for years if you want to look your best on your special day. As a returning and continuing customer, you could perhaps request a discount because regular customers typically receive superior service. Having already visited the beauty team's studio, you will also be aware of what to anticipate from them.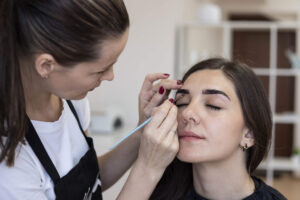 Book the assistant rather than the professional.
The majority of hairdressers with their own salons are assisted by one or more people. Try to schedule an appointment with one of the assistants to handle your makeup and hairstyle. You might be able to get an idea with the same level of expertise for a fraction of what hiring the renowned stylist would cost.
Don't overpay merely for the brand, in other words.
Count the number of women getting their hair and makeup done.
Have a clear notion of which ladies will be served before you talk to a beauty salon representative about your upcoming wedding. Some brides pay for the bridesmaids' hair and makeup. Do you provide coverage for grandmothers, aunts, mothers, etc.?
Because individuals anticipate spending a lot for weddings, your salon may attempt to upsell you beyond what you would normally be ready to pay for their services. To prevent this, have a clear concept of how much money you are going to spend.
Spend less on accessories
The price of hair extensions might reach $1,000. Consider alternatives to all these accessories whenever you wish to stay inside your spending limit. Clip-in extensions are far less expensive than "genuine" ones.
Find a solution to reduce the expense of the hairpiece as well. What about a tiara? Most likely, you'll only ever wear this hairpiece once. Choose a low-cost model, do it yourself, or avoid it altogether.
Approach a cosmetics counter
Makeovers are frequently provided either for no cost or in return for a little purchase at the cosmetics company. You can go to these inside a mall and receive a touch-up from a makeup professional there.
But be aware of the dangers with this choice. Since you're meeting them for the very first time and they are unaware that the wedding guests are anticipating you, even though it is free (or very little), you might not receive what you want.
During a gift period, visit a cosmetics counter
When you purchase something from one of its cosmetics shops at a department stores, they frequently give you a free present. For instance, for a short period of time, Macy's may offer you a complimentary cosmetic bag with any products purchased from their Clinique Counter that includes eye shadow and blush. Only the gift differs from these offers, which are usually offered at their cosmetics store counters. Make it a habit to regularly check the site of department stores to see what gift coupons and discounts are available, and purchase your wedding makeup when the gift is everything that you need to finish your collection of bridal makeup.
Attend a cosmetology school
Consider attending a cosmetology school for your wedding-day makeup done, just like you would for your hair. You are actually helping lots of makeup artists in practice in their quest to complete the necessary amount of makeovers before they become fully qualified makeup artists. Additionally, you will benefit by not having to drive to various places for your wedding preparations if you already have plans to get your hair done at the cosmetology school on your wedding day.
Obtain enough makeup in advance
If you don't wear makeup frequently, you might be surprised by how expensive makeup materials are. The cost of beauty kits might run into the hundreds of dollars if you make something from scratch during your wedding.
So plan ahead and be ready. If you decided to perform your friend's hair and makeup for the wedding, you must start stocking up on makeup with in months before the event. By doing this, you'll be able to balance your spending while also learning more about the kinds of looks that each cosmetics package can help you create.
Keep your identity as the bride a secret in the salon
This one is a bit strange because it's your big day and you've got nothing to hide. However, you can play this game backwards because the market prefers to increase prices once they hear the words "wedding."
Say you require hair and makeup for a special event or that you are a bridesmaid. You will undoubtedly pay less for the service and receive the same level of attention as any other frequent customer.
Don't do your hair or makeup
The price is the lowest choice. No, I am not joking; many brides choose an entirely natural appearance at their weddings. This will be especially effective for those who have selected an outdoor location for the gathering, such as a beach or a chic canvas tent.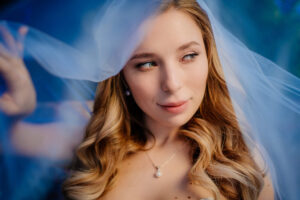 Hair and Makeup Tips for Bridesmaids
Unquestionably, it is an honor to be chosen to serve and be part as an bridesmaid. However, attending the wedding celebration carries a great deal of responsibilities. Being someone a member of the bride's elite friends and relatives comes with various expenses, including stuff like shoes,  clothes,  jewellery, and makeup.
However, being a bridesmaid has its perks, from helping to organize the bridal shower to having your hair and make-up done on wedding day. Makeup for bridesmaids may be challenging. Of course, you want to appear gorgeous, but you also don't want to overshadow the bride. Consequently, applying makeup correctly might be difficult.
Of course, bridesmaid makeup ought to be modest and appropriate for the wedding's theme. A tiny backyard wedding is not the place for theatrical makeup, whereas a more formal event is not the place for only eyeliner and lipstick.
Here are some suggestions for bridesmaid makeup to get you motivated. Of course, you'll want to have the bride see how you appear. Keep your appearance consistent with other bridesmaids as well.
Natural Bridesmaid Makeup
Choosing natural bridesmaid makeup can be one of the finest methods to avoid competing with the bride for attention. This is appropriate for casual weddings. Soft hairstyles with light makeup, a thin application of mascara, a brush, and eyeliner is natural bridesmaid makeup styles. Use a liquid pearlescent illuminator for a dewy appearance. The final touch will be a subtle lip color.
Inventive Makeup Ideas
Looking for creative makeup suggestions for bridesmaids? For a lavish wedding, dramatic makeup like vivid eyeshadow & lipstick are ideal. A delightful addition is glitter. Weddings with bohemian, gothic, steampunk, and other unusual themes require distinctive attire. Do some study so you may change the cosmetics for the bridal party to match the wedding's theme.
Bridesmaids' Soft Makeup
Soft makeup tips for bridesmaids are an additional option again for natural appearance. For an intimate environment, soft tints and sheer lip colors is ideal. Soft and subtle are always a good choice for a wedding venue, whether they are held in a garden, vineyard, or by the sea.
In conclusion
You may save a lot of cash on your hair and makeup even though, traditionally, anything with the label "wedding" on it is automatically more expensive. Planning ahead is essential so that you are aware of your needs. Additionally, if you save money wherever possible, you can have inexpensive hair and makeup at your special occasion without anyone noticing that you didn't spend a boatload on it.
You are already off to a solid start if you implement even a handful of the aforementioned advice.
For more information on how https://hairandmakeuplasvegas.com/ can help you on your Wedding Hair and Makeup, please contact us at (702) 326 0619, or visit us here:
Bridal Express Hair & Makeup Las Vegas
3150 N Soft Breezes Dr, Las Vegas, NV 89128, United States