Awesome Christmas and Holiday Party Hairstyles You Should Try
The Christmas season is one of the few times of the year when glitters are encouraged, if not required. Many people spend weeks deciding what type of Christmas party dress or clothes they'll wear, as well as how they'll apply their makeup for the holidays, but your hairstyle is just as important.
Whether it's an office party or a virtual Secret Santa with the family, every event requires a festive look. And what's a festive look without a festive hairdo?
You'll enjoy those Christmas cocktails, holiday appetizers, and mingling even more, when you don't have to worry about your hair. Here are 12 amazing Christmas and holiday party hairstyles you should try out.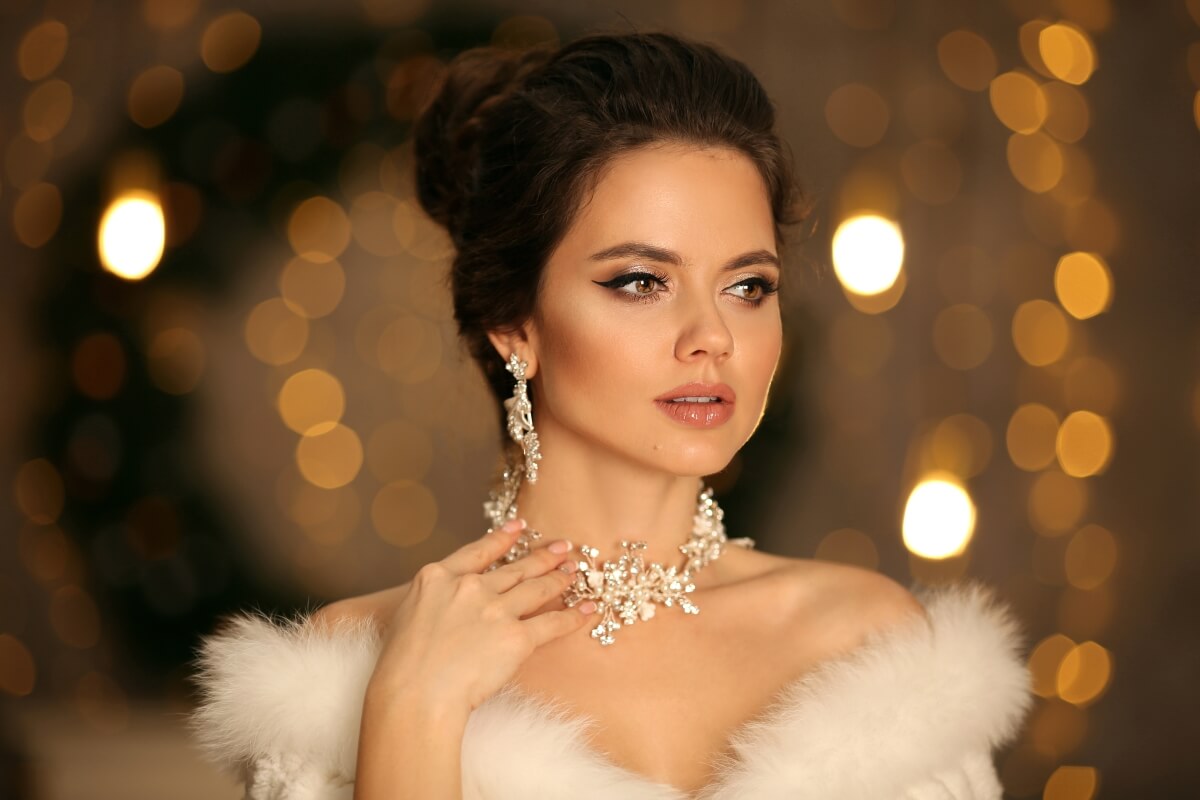 1. Hollywood Waves
The glamorous Hollywood waves are always perfect for any momentous occasion, including holiday parties. This unique style makes your hair look voluminous and lush and adds extra glamour to your statement look. Sometimes, a straight asymmetrical hairdo can be somewhat bold, so you add waves throughout to soften this look.
To get this done, curl the hair in the same direction throughout using a one-inch curling iron. After the curls have cooled, comb them out using a boar bristle brush. Use a comb to backcomb the curls for extra volume gently. Finish with a spritz of shine spray to maintain the beautiful look, and a pearl slide behind your ear to provide an extra holiday appeal.
2. Bedazzled Blunt Bob
While Saweetie's glitzy slicked-back bob appears complicated, it's relatively simple to achieve. Apply a gel or pomade to your hair (we use our specially made Styling Gel because it never makes your hair dry). Then, wherever you want, add little rhinestones. 
3. Bubble Braid
Bubble braids add a whimsical twist to conventional ponytails or plaits, and they're quite simple to make. To avoid frizz, apply a light style cream to your hair and smooth it back into a ponytail.
Then, using your fingers, tease and pull at each portion of your pony with elastics spaced a few inches apart.
4. Bubble Ponytail
If you don't want your ponytail to be the same as everyone else's, try a bubble pony – a sleek take on the classic, conventional style. You need to do two things before you start creating this appearance.
Tie your hair into a high ponytail and apply some hair gel. Then, to create volume without making the ponytail stiff, spray it with a texturizing spray.
5. Flowing Tresses
Go for a trendy hairstyle with flowing tresses if you want to feel free this holiday season. This looks well on straight, wavy, or curly hair. Keep your hair down to increase its volume after a blowout.
If you want waves in your straight hair, wrap huge chunks of blown-out hair around a sizable curling iron. While your hair is still hot, unwind and ruffle with your finger.
To finish the look, add a holiday-themed ornamental clip, such as a sparkling hairpin or even some mistletoe tucked behind your ear.
6. Wreath For Christmas
This is the perfect Christmas hairstyle for kids. It's an excellent option if your daughter has long hair. A beautiful wreath is the epitome of Christmas, so why not integrate one into your hairstyle? Make a long braid and wrap it around your head, pinning it in place.
Then, through the braid, thread some ribbon. You can attach some seasonal decorations to the wreath to make it look even more festive. Use baubles, fake greenery, glitter, poinsettias, or tiny pinecones to get creative.
Make a tiny wreath and use it as a headband if your daughter's hair is shorter. It will have the same festive flair as the original and be just as effective.
7. Space Buns
Try this clever holiday hairdo if you want to look stylish, dance all night, and avoid dashing to the ladies room to change your hairstyle. To achieve this, plait two upside-down braids, create two high sock buns, and you're ready to go.
Such lovely buns are appropriate for informal and formal holiday parties, requiring floor-length and cocktail dresses!
8. High Ponytail With Sparkly Barrette
This is one of the hottest styles for a holiday — and it's perfect for private family meals or Christmas parties. If you're using hot tools like a curling iron to produce loose, bouncy curls, apply a heat protectant spray to your hair before turning it into a high half ponytail to avoid damage. 
9. Modern Top Knot
This is the ideal holiday hairdo for those 'Twixmas' days in-between Christmas, as it doesn't have to be complicated or fussy to look at. Wear a slender headband to get that extra party style points.
In addition, mist a dressing brush with hairspray THEN draw your hair into the pony before pinning it to keep the look sleek and shining. 
10. Pure Elegance
Braids loose and messy around the head are a stunning look to try for a holiday party or a cocktail party. Make two or three braids and secure them with hairspray and a few hairpins. This will allow you to enjoy this elegant and feminine haircut throughout the evening. Curl a few strands of hair near your face.
11. Braided Bun
If your tresses are long and thick and want to try something different, consider a braided bun. To achieve a flawless finish, you may require the assistance of a stylist. On either side, neat hair strands are plucked out and interlaced with a braid.
These are then carefully pulled back and tied into a bun at the rear.
12. Holly Springs
You can get creative and make a hairdo that suits you. Maybe you'll go for a sloppy updo, a simple braid, or a half-up, half-down style?
Regardless, all you should do is add a few festive holly branches to your hairstyle, and you'll be set for a Christmas party in no time. You can use this one for multiple festive events because you can play around with it. When using the holly, keep in mind that it can be rather spiky.
For more information on how https://hairandmakeuplasvegas.com can help you on Awesome Christmas and Holiday Party Hairstyles in Nevada, please contact us at (866) 216-4534 or text at (702) 326-0619, or visit us here:
Bridal Express Hair & Make-up
3150 N Soft Breezes Dr Las Vegas, NV 89128