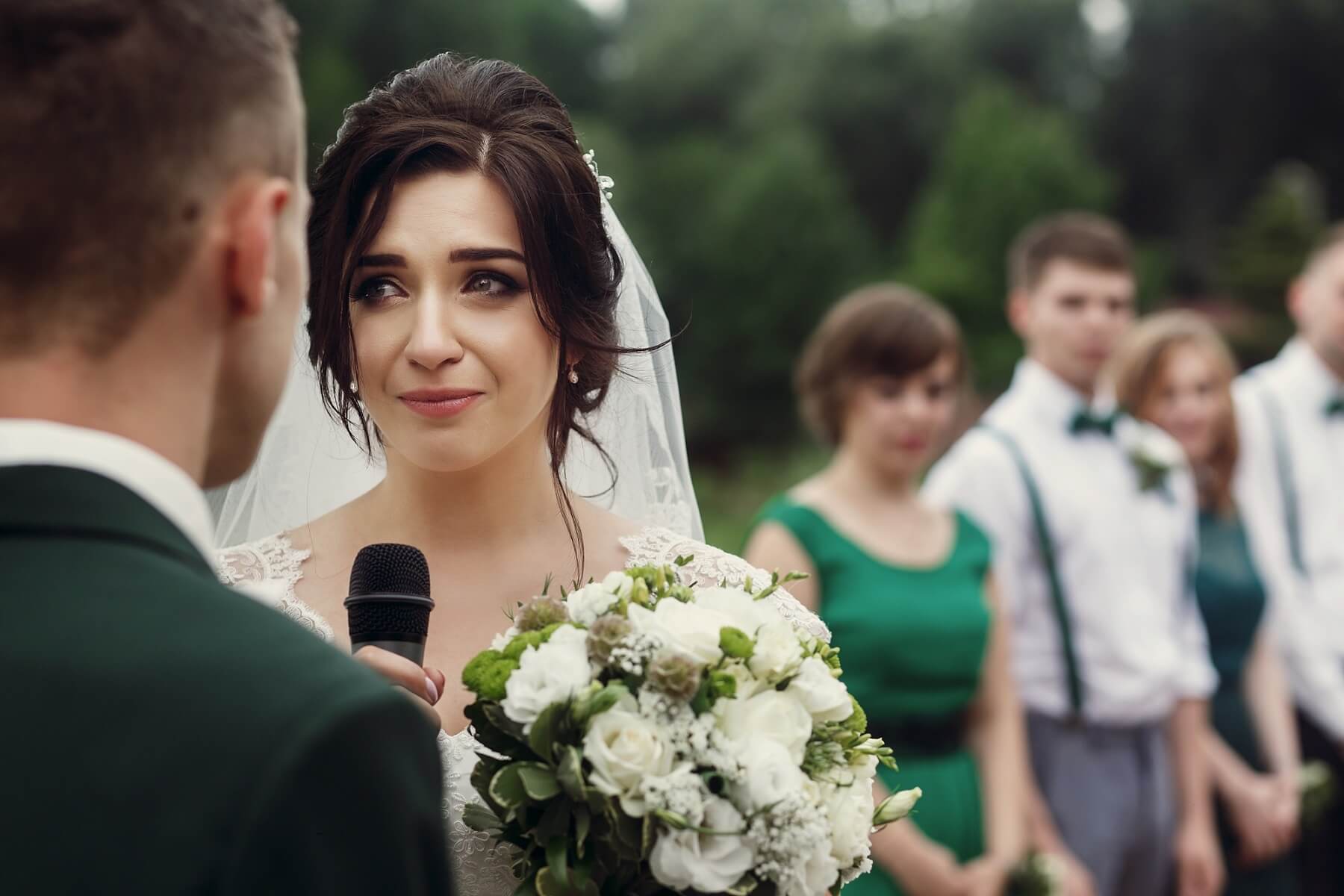 The second best thing to a wedding is a vow renewal. Whether you are looking for an on-location hair and makeup artist for your Vow Renewal Ceremony or looking to come into our Salon, we're here to help you. We take care of everything from your hair and makeup to your nails, all at affordable prices.
When you're ready to reaffirm your commitment to marriage, renewing your vows can be a memorable and lovely experience. But your vow renewal day is not like any other day, as a result, you want to make sure that you look and feel your best. Everything counts, from your hairstyle down to your nails.
Bridal Express is dedicated to providing you vow renewal hair and makeup packages that give you the quintessential Las Vegas experience, and we promise to make it a smooth process for you. Our experienced vow renewal hairstylists and makeup artists will provide those finishing touches that you need to look astonishing and adorable on that big day. Whether you want to look fresh and natural or totally glam, you can rely on our service to bring out your beauty.
Why Renew Your Vows?
The actual justification for doing it is that you WANT to! also because it's enjoyable! It's not necessary to have a specific justification, but it's common for many couples to desire to participate in a joyous and meaningful ceremony as a married couple. The staff here is committed to turning your vow renewal into a fantasy Las Vegas wedding. In order to ensure that your ideas are integrated into your Las Vegas vow renewal ceremony, our hair stylist and makeup artist are here to work with the couple. Bridal Express Las Vegas fulfills dreams!
Why you should consider renewing your vows in Las Vegas
If you're thinking about renewing your vows, you should consider doing it in Las Vegas, NV. Las Vegas is known for its beautiful wedding venues, locations and amazing wedding services, and vow renewal hair and makeup services experts are no exception. If you want your vow renewal to be perfect or to be the best, you need to hire the right professional stylist, and in Las Vegas, there is no shortage of talented hair and makeup stylists.
We at Bridal Express Las Vegas have been providing top-quality hair and makeup services for weddings and vow renewals for over fifteen years. We know what it takes to make your ceremony one extra special, and we would love to help you achieve that look. Whether you're looking for a subtle touch-up or a complete transformation experience, we can help you look your best on your big day.
So why not renew your vows? With our help, your ceremony will be fun and unforgettable!
The Benefits of having your Hair and Makeup done by Professionals for your Vow Renewal
Having your hair and makeup done professionally for your vow renewal can be a great way to look and feel your best on your special day. Here are some reasons why you should consider using professional hair and makeup artists for your vow renewal:
You'll look like a million bucks. Let's face it, we all want to look our best on our Las Vegas wedding day. Having your wedding hair and makeup professionally done can help you achieve that goal. You'll look polished and put together, which will make you feel more confident as the renewal of vows takes place.
You'll save time. Trying to do your own hair and makeup on the day of your vow renewal can be stressful and time-consuming. By using professional hair and makeup artists, you can relax and enjoy getting pampered before your big day.
You'll have peace of mind knowing that everything will look perfect. When you use professionals for your hair and makeup, you can rest assured that everything will look just the way you want it to. This can give you peace of mind on your special day, so that you can focus on having fun and enjoying the best moment.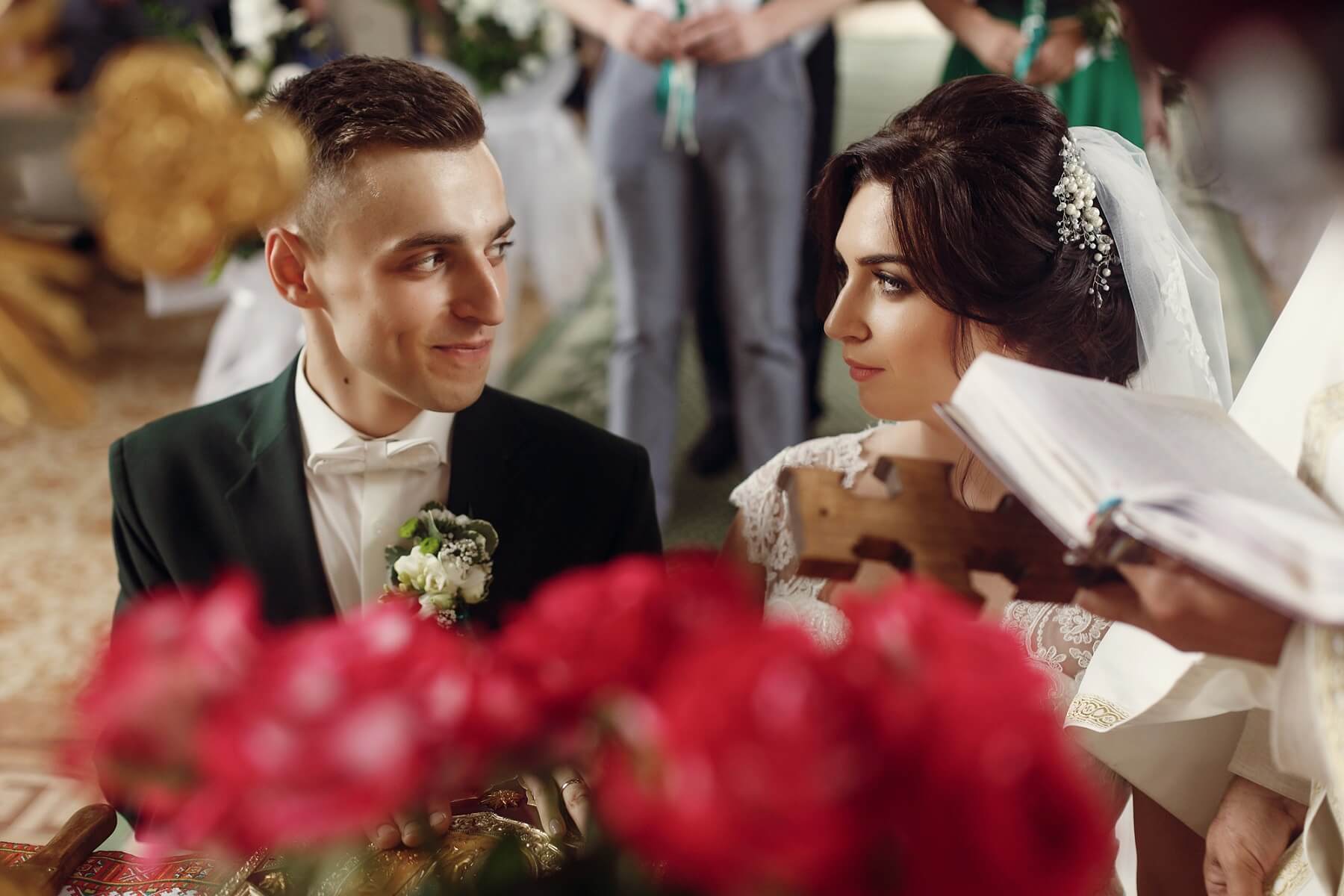 What to Expect
In Las Vegas, we believe in second chances and new beginnings. That's why renewing your vows in Las Vegas is the perfect way to celebrate your love for each other. Whether it's been 5 years or 50, we can help you make this special day one to remember. We offer vow renewal packages that include hair and makeup services so you can look and feel your best on this special day.
Bring Your Inner Beauty To Fore
With a makeup service that's dedicated to bringing out your bedazzling and beauty, Bridal Express is a brand you can trust to take care of your beauty make needs. At Bridal Express, we strive to be the best at hair and makeup be it for weddings or vow renewal ceremonies. We're constantly changing with trends and fashion to ensure that we provide you with a 5-star experience. Our team will work harmoniously to offer you exceptional service that exceeds expectations.
Custom-Made Hairstyling That Pronounces Your Presence
We pride ourselves on our unique approach to business and ability to listen to the needs of every client. We will pay attention to all of your concerns, ideas, and needs in order to match the hair and makeup that you have been envisioning for your vow renewal ceremony. We will not only make you look gorgeous but will also make your invited guests feel perfectly confident about their look on your special day. Whether your ideal look is modern, hip or glamour, we will make you look like the queen that you are.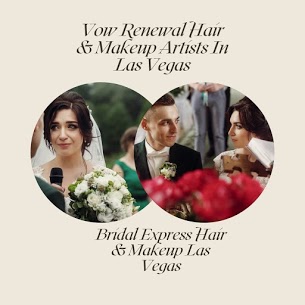 Fast, Efficient & Reliable
Being the focus of any ceremony, no matter how small it is, can be stressful. As a result, you deserve complete understanding from your hairstylists and makeup artists. Our team of hair and makeup professionals in Nevada are human, patient, and courteous. We provide the best quality service at your own convenience. We offer mobile on-location services in case you don't have the time to come over to our studio.
Tips for getting the most out of your Hair and Makeup for your Vow renewal
If you're looking to get the most out of your hair and makeup for your vow renewal, it's important to find a reputable hair and makeup artist in Las Vegas. Not only will they be able to help you look your best, but they'll also be able to provide you with tips and advice on how to make your hair and makeup last throughout the day. Here are some tips to help you get the most out of your hair and makeup for your vow renewal:
Make sure to book your appointment well in advance of the occasion.The closer to the date you book your appointment, the more likely it is that you'll be able to get the time and date that you want.
Bring pictures of hairstyles and makeup looks that you like.This will help give you an idea of what kind of style you're looking for and will help the hair stylists and makeup artist understand your vision for the day. You may check on Google, instagram or other social media platforms for ideal photos or pictures for your dream wedding day.
Be sure to communicate with your hair and makeup artist throughout the day.If, at any point during the day, you feel like your hair or makeup is starting to look worn down, let the artist know so they can fix it for you. Also, feel free to make any changes or additions to your look as the day goes on - this is your day after all!
Frequently Asked Questions
Here are some frequently asked questions:
Do you travel to us?
Yes! We will come to you on your special day, whether you are at your hotel or to where you are. We understand that your vow renewal is one of the most important days of your life, and we want to make sure that everything is perfect, including your hair and makeup. We will work with you to create a custom look that compliments your unique skin, style and beauty.

Do I need to hire a hair and makeup artist?
It depends! If you want to look your best, we recommend hiring a professional so it will not be out of hand. They will know how to do your makeup and hair so that it lasts all day (and night!) long. However, if you're on a tight budget, there are some ways to save. You can do your own hair and makeup or have a friend or family member do it for you. Just make sure that whoever does your hair and makeup is familiar with the style you want and knows how to apply it properly.

How much does it cost to hire a hair and makeup artist?
Prices vary depending on the artist and the services you request. Generally speaking, expect to pay around $100-$200 for hair and makeup services. Of course, prices can go up from there depending on the complexity of the style you want and the length of time it takes to achieve it.

What should I look for in a vow renewal hair and makeup artist?
When searching for an artist here in Las Vegas, be sure to read reviews first. Make sure that they have experience doing vow renewals and that they have plenty of positive reviews from past clients. Once you've found someone whose work you like, be sure to schedule a trial run before the big day so that you can see how they work and make sure you're happy with the results.

== Here are some of the services offered by Bridal Express Las Vegas for the Mother of the bride ==
Hair styles for the Mother of the Bride
Given that they will be the center of attention along with their children during the vow renewal, hair and makeup can truly benefit the mothers of the bride and groom. Both mothers of bride and groom can seem stylish, sophisticated, and a little bit seductive while yet remaining age-appropriate with the aid of the original mother of the bride hairstyles.

Here are some services offered by Bridal Express Hair and Makeup:
Hair Services for the Mother of the Bride
If there is ever a day when you should be completely pampered, it should be your son or daughter's wedding day. In fact, you deserve to look your best at all times! There are several mother of the bride hairstyle options for the important occasion. Never allow an inexperienced person to touch your hair as they will probably perform a terrible job that puts ruining the whole day. Bridal Express Las Vegas can style your hair precisely how you desire and assist in making your desired hairstyle a reality. Here are some reasons why hiring Bridal Express Las Vegas would be the best choice:

Blowout Hair:Mothers generally don't enjoy being spoiled. The vow renewal, wedding ceremony are the ideal occasion to do so. A blow out is a less rigorous hair treatment that will give you a refined, clear, and clean appearance. You can choose from a variety of blowout styles to keep your hair looking fresh and vibrant even after wedding and to go between washes more frequently.
Hair Extensions:Let's face it, the majority of the hair at this age is lost, isn't growing, and instead just keeps getting shorter. But don't worry! Using hair extensions, you have several different types of stylistic options, including wearing your hair down.
Fully trained hair stylists:The hairstylists at Bridal Express Las Vegas are highly skilled and have received extensive training. They are completely trustworthy with your hair. These stylists are experts in the field and will utilize their skills to design a unique hairstyle that will astound.
It's sufficient to say how these Las Vegas professional hair and makeup artists will do a superb job because they have more than 15 years of expertise in the industry. They have been for a long time and are capable of doing many different haircuts, hairstyles, including their own creative ideas. To find out what prior customers have to say, read the reviews. The best thing is that reputation speaks for itself.
There are several options for mother of the bride hairstyles:
Half-updo with loose curls and a bouffant
Curly Half-Up Hairstyle with Highlights
Stylish Updo
Hairstyle with an updo
You may be sure to discover the look you want at Bridal Express Las Vegas. In addition to hairstyles, their personnel is incredibly hospitable and will go over and above to pamper you. You'll truly feel like a Queen after receiving the service. Expert makeup artists and hairstylists would make the entire process fun and enjoyable. Even before the vow renewal wedding ceremony begins, you'll be having fun as you unwind in a comfortable chair and get a spa treatment.
Tips & Tricks for Mother of the Bride Hairstyles
One of the key participants in a wedding is the bride's mother. She frequently wonders what she must do with her hair. The best hairstyles for mother of the bride are shown here.
For mothers having short hair, an updo is an excellent alternative. Simple and sophisticated, this look could be taken up or down according to the occasion.
An braided hairstyle can be the best choice for you if you really want something to look more formal. Weddings allow for the wearing of a variety of braids, including fishtail and waterfall braids.
An dutch braid can be an excellent option if you desire something more laid-back. Long hair looks wonderful in this style, which can be worn up or down.
Whatever style you decide on, make sure a competent hairstylist does your hair. The mother of the bride's hairstyle will be created to perfection by a skilled stylist. Regarding mothers of the bride, airbrush makeup is a fantastic choice. This kind of makeup appears really natural and lasts all day.
The ideal place to have your hair and cosmetics done during your wedding is Bridal Express. We have a Las Vegas base, but we work throughout Nevada. Visit our website right now!
Why Choose Us
At Bridal Express for Vow renewal hair & makeup artists in Las Vegas we specialize in providing hair and makeup services to couples who are renewing their wedding vows. Our hair & makeup artists specialize in providing hair and makeup services not only for brides and grooms who are renewing their wedding vows, but also for the guest that are invited for them to look good also on your special day. These artists are experienced at creating a wide variety of looks, from classic to modern, to ensure that the groom and bride look their best on their special day. They are also experienced at creating options for looks that are appropriate for both parties or the couple's specific style, whether it be traditional, romantic, or something more unique.
Our vow renewal hair & makeup artists use high-quality products to ensure that both couples look at their best. They are also experienced at using airbrush makeup techniques to create a flawless look for the couple. We are also experienced at creating updo hairstyles or any hair styles that are appropriate for the couple's specific style or appropriate for her dress. Lastly, we are also experienced at creating hairstyles that are appropriate for the couple's specific theme, such as a beach-themed vow renewal.
If you have questions regarding detail package deals or any other types of services we offer, like hair services, hair extensions, Mother of the bride Styling or beauty services for your vow renewal or any kind of party or event. Bridal Express Las Vegas is the place and the best destination to be. For more details, don't hesitate to call us on (702) 326-0619.
With all eyes on you, look and feel amazing with the help of our Las Vegas hair and makeup professionals. We make sure that you look flawless and are picture-perfect for that special day when you renew your commitment to your wedding. Let's make your vow renewal a memorable day you'll eternally romanticize both in your mind and in pictures.
Book a session now
For more information on how https://hairandmakeuplasvegas.com/ can help you with Vow Renewal Hair & Makeup Artists In Las Vegas, please contact us (702) 326-0619, or visit us here:
Bridal Express Hair & Makeup Las Vegas
3150 Soft Breezes Drive Las Vegas, NV 89128
Las Vegas Vow Renewal hair and makeup professionals