Mother of the Groom Hairstyles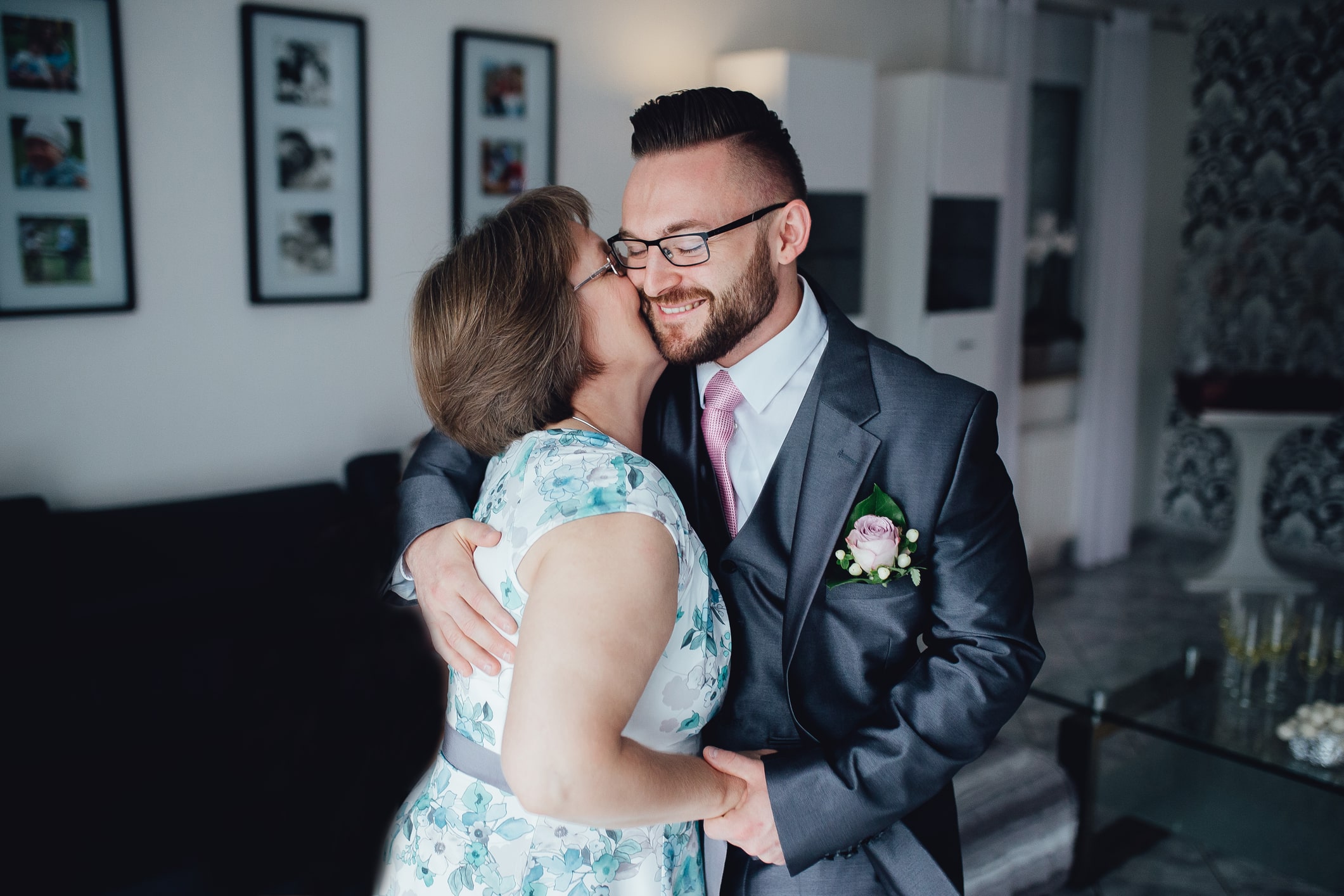 Everyone wants to know what their ideal look is when regards to the bride's mother's hairstyles: This style guide was created to provide guidance on how to dress for all hair kinds and lengths, wedding themes, and dress cuts.
There are plenty of classic styles to take into account, as well as several more contemporary looks that you should get acquainted with. Layers, updos, braids, and all possible hair accessories have been taken into consideration.
Choosing the Right Hairstyle for the Occasion
Finding the right hairstyle for the mother of the groom is crucial. The mother of the groom should be just as stylish and put-together as the bride. After all, it's her son's special day too! To make sure you look your best at such an important event, here are some tips to help you choose the perfect hairstyle:
Consider Your Dress – Your hairstyle should match your dress. If you're wearing a simple dress, you might opt for a more intricate updo or a half-up style with waves. If your dress is more elaborate, consider going for a sleek updo with a bun or chignon on your nape. 

Think About Comfort – While you want to look glamorous, comfort should also be taken into consideration when choosing a hairstyle. An uncomfortable or overly complicated 'do could end up being distracting throughout the day and night. Choose a style that won't require too much upkeep and won't give you any headaches during events like photos or dances. 

Accessorize – Adding hair accessories like pins, combs, barrettes, pearls, flowers, or tiaras can take your hairstyle to the next level and help make it unique to your personality and style. Be sure to choose accessories that will fit and match your dress so that everything ties together nicely! 
Choosing the fit and right hairstyle for such an important occasion is no easy thing, but if you keep these in mind when selecting yours, you'll be sure to look stunning on your son's wedding day.
Mothers' Hairstyles for Various Hair Lengths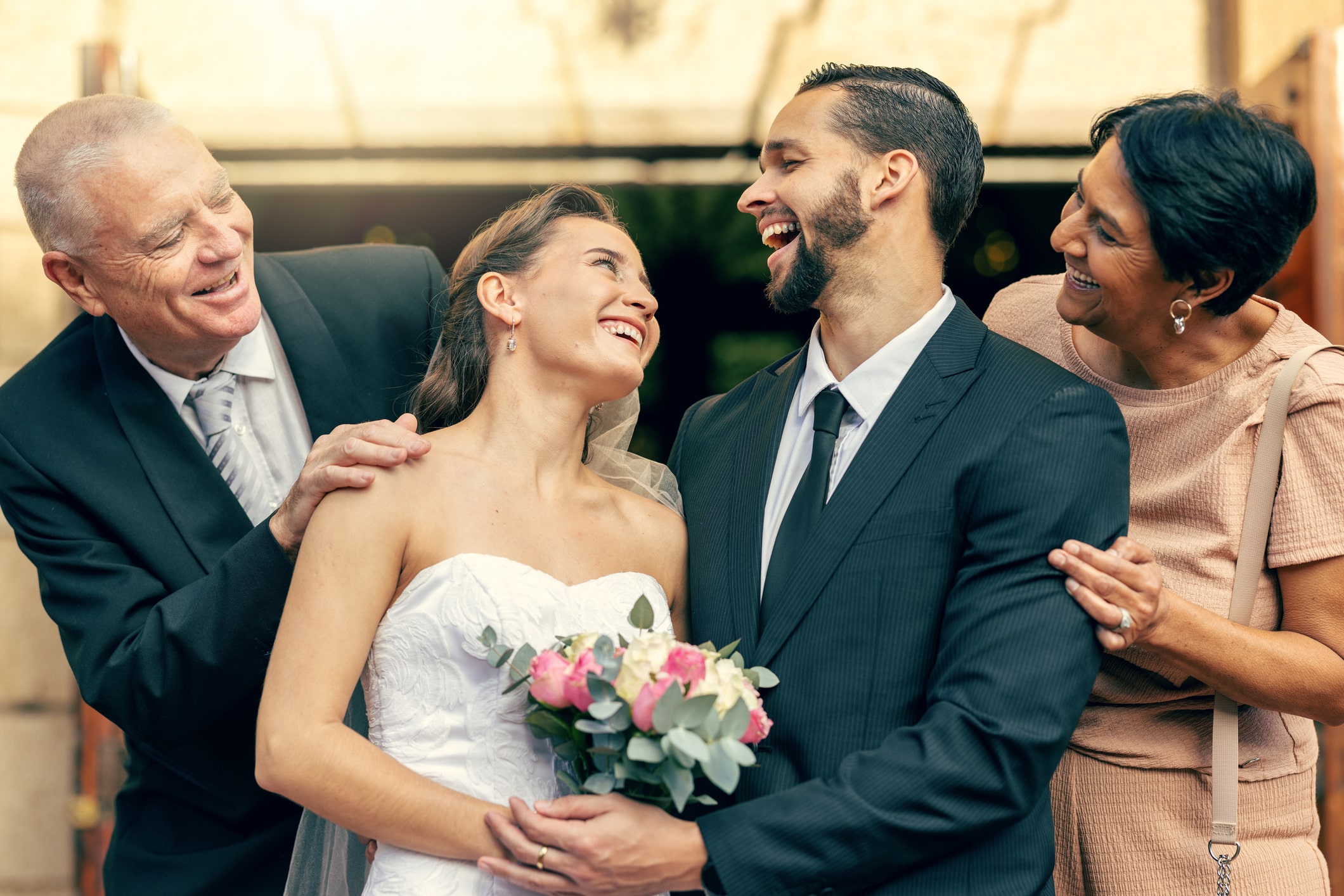 The length and texture of each person's hair varies just as much as they do. Because of this, various wedding hairstyles for the mother of the groom or bride can accommodate hair of various lengths and textures.
Long Wedding Hairstyle For The Mother Of the Bride Or The Groom
Long hair can be worn by several mothers of a bride for wedding hairstyles. Popular options that are simple to create by yourself or with professional guidance include updos. Either a formal and casual wedding might benefit from a shaggy, voluminous bun.
A properly styled bouffant is always a good choice. This would be a great option if you're looking for mothers' wedding hairstyles from the age of 50-year-olds. To add volume, create a loose bouffant, and then tease the front areas for a bit of an unkempt but still gorgeous look.
Medium Wedding Hairstyle For The Mother Of the Bride Or The Groom
Many lovely shoulder-length hairstyles for mothers at weddings are inspired by medium-length hair, which may be a delight to style.
Vibrant and seductive waves can produce the desired impact if you're seeking something out of the ordinary. This is a stylish look for a mother who wants to look good while honoring her daughter.
Why choose between a chignon or a bouffant when you could have both? A sleek chignon is a timeless updo that will never be out of style. Additionally, it is the ideal option for medium-length hair. Released some wispy hairs for beauty and style it in a style that is halfway of both a chignon and a bouffant.
Short Wedding Hairstyle For The Mother Of the Bride Or The Groom
Similar to discovering trends for other hair types, choosing short wedding hairstyles for the mother of the bride is simple. This is due to the fact that short hair almost always encourages more inventiveness.
A really fashionable alternative that would be ideal for some mom of the bride as well as the mother of the groom's wedding hairstyle. Almost any woman would look great in this understated but stunning wedding updo. For a more delicate appearance, gather the curls at the nape of your neck into a loose bun.
This hairstyle isn't only appropriate for longer hair. Even with short hair, you can pull off a French roll that looks chic and elegant. The roll will hold the hair in place all day or all night, so you can unwind and enjoy your day.
Most popular hairstyles for mothers of the groom
Here are some of the most popular and could be the best hairstyle for your mother during your wedding. Some of this will also depend on the texture or length and possibly could be the color of your hair, whether it is black or brown or even blonde.
Twisted Half-Up Hairstyle
One of the most attractive wedding hairstyles only for the mother of the groom is half-up. And the ideal method to raise your hair game is with half-up, wavy hairstyles. Twisted and pinned hair in front and side portions. There are a few strands left in the front that caress the face. Here, it's important to give the hair a slightly messy appearance. The stunning cascading waves finish its appearance.
High Pinned-Up Bun
The traditional hairstyles for the mother of the groom at weddings are buns. The high pinned-up bun along with wispy & curly ends captured our hearts. You can enjoy the night's dancing without worrying because everything is taken care of. This hairdo is ideal for showcasing your multi-tonal hair. It works well with thick hair.
Low Twisted Bun
One of the best medium hairstyles for mothers of the groom is this one. A strange beauty. As many portions as you can make without sacrificing the volume of each, create by combing your hair back. Tuck and twist The hairstyle's twisted rolls with some strands sticking out give off a youthful, carefree, and ethereal vibe.
Bangs on Short Grey Hair
This is a beautiful image of a mother of such a groom with short hair. There are countless ways to style pixies, making them a flexible haircut. One such style is shown here. This pixie cut in a gray color is fashionable and trendy. Another wonderful feature are the bangs that are positioned on the forehead carelessly.
Natural Waves along with Bangs and a Hat
Keep the mother of the groom hairstyles down, like these, if an updo is not your preferred look. Consider this as an example. Natural waves with bangs add a carefree and elegant vibe to this haircut. A hat or other equally magnificent hair accessory can be used to enhance your understated yet gorgeous hairstyle.
Bouffant With Side Bangs
For the mother of the groom's bridal hairstyle, bouffant buns are a common option. A bouffant adds drama to the appearance by adding volume at the crown. The ideal hairstyle to go with this drama is wispy side bangs.
Updo With Curly Volume For Short Hair
Here is another example of a short mother of the groom hairstyle. Thin hair may also pull off this look. To add volume, curl your hair first. To create an illusionary bun, gather the curls from its side as well as the bottom, then pin them together. This will provide an unruly appearance that is completely in control and looks amazing.
Curly Pinned-Up Strand
For mothers who wish to keep their hair simple yet elegant, check out this look. This hairstyle is perfect for you if you enjoy simplicity. Your shoulder-length hair can be curled at the ends and waved in the centre. Grab a thick part of one of the sides, give it a slight twist, and pin it up while leaving just several strands on the front. You're done now.
Textured Bouffant Bun
Considering mother of a groom hairstyles with thin hair, bouffant buns work well. To get good volume, tease your hair and use a texturizing spray. While keeping enough hair on the front, create a bouffant. Make a bun out of the remaining hair at the back. The hairdo is transformed from boring to stunning with the help of texture and volume.
Side-Parted Fun
If you're seeking a beautiful mother of a groom hairstyles with long hair, take some inspiration from Kerry Washington. We adore the way she altered her parts to achieve this look. This hairdo appears light, feminine, and sophisticated. This haircut will let you embrace your inner goddess even though you're a mother.
Short & Accessorized French Twist
French twists epitomize wedding hairstyles better than anything. Don't worry if your hair isn't thick and long. Even if your hair is medium length, you can still wear a French twist. This particular one is a French twist style. It has a refined, aristocratic, and elegant appearance. This bridal style will be finished by the flower accent.
Crown Braid With Waves
One of the really popular bridal hairstyles for the mother of a groom is a braid. Crown braids appear stylish and enjoyable. You can wear them with either open hair or simply a classy bun. The way you wear your hair is always a good choice. A crown braid is shown here, followed by lovely and bouncy cascading feelings.
Short Bob with Bangs
This year, short bobs are a common choice among mother of a groom hairstyles. A straight bob with bangs can be fashionable and attractive. They are easy to do and make a stunning bridal hairstyle. 
Natural Elegant Waves With Bangs
Natural waves can give you an effortless appearance. Any hair length, whether short, medium, or long, looks good with waves. The hairstyle becomes much more fashionable when worn with bangs. Don't trust us? See how well Susan Sarandon pulls off the outfit.
Messy Bun With Wispy Front
A romantic updo is the epitome of mother of a groom hairstyles for weddings. A subtle messy bun with strands framing the face is regarded as a stylish and lovely alternative. But since the stunning Meghan Markle publicly endorsed it, its popularity has skyrocketed.
Cascading Curls With Sleek Front Finish
One of our top recommendations for mothers of a groom hairstyles for long hair is this one. On the day of your son's wedding, don't be afraid to show off your natural curls. The front of the hairdo shown here has a sleek finish. Your middle part should be visible. If you need to smooth the hair down to give it a polished look, use gel. Behind your ears, secure the front pieces on both sides. From below, allow the bouncy curls to flow.
Classic French Twist
Turns and twists can result in a variety of stunning mother of a groom hairstyles. It's classy to add a traditional French twist. This traditional and timeless style is ideal for weddings.
Pinned Updo For Medium And Short Hair
This updo is best suited for short or medium-length hair. Even great if you've got layered hair. Your hair should be curled at the ends. Seize every twist, curve, and tuck. A good volume will be ensured by the curls. These pinned updo hairstyles look supremely glitzy and sophisticated.
Rolled Chignon
Another lovely option for the mother of a groom's hairstyle during a wedding is the chignon. You cannot go wrong with an attractive style like this low, rolled-up chignon. Additionally, it has a bit of texture which adds some drama and makes this haircut look even more fashionable.
Half-Up Hairstyle With Flowers
If you don't want to have your mother's of the groom hairstyles entirely down, chic half-up and half-down hairstyles are one stylish alternative. This is a lovely hairstyle that suits all hair lengths. The sparse hair on both sides should be twisted and pinned. Add fresh flowers if you want to, or pair with flower accessories. This hairdo demonstrates the charm that straight hair can provide.
Curly Updo
Curls have a youthful, flirtatious, feminine, and enjoyable appearance. For red-haired moms, consider this curly updo as an example. The curls have created a lovely volume at the top. This hairdo is much more attractive than before thanks to the scattered loose curls that have been left in. One of the top mother of the bride hairstyles for your thin hair is this one.
Messy Asymmetric Low Chignon
Don't worry if a polished appearance is not what you're going for. The new seductive look is messy. Here is an illustration of a sloppy, textured hairstyle. This year's must-have hairstyle is the low chignon to its side. A perfect comfortable look that may instantly transform your entire appearance from casual to glamorous.
French Braid
The hairstyle worn by the bride's mother with this french braid is gorgeous. This haircut is stunning because it combines braids with side curls and is accessorized with adorable rhinestones.
Platinum Blonde Hairstyle
A casual hairstyle for such a mother of the groom is all that is required if you are one of those mothers who enjoys simple, carefree looks—even for weddings. Choose a bob hairstyle and throw the bangs to one side for a stunning appearance.
Fancy And Puffed Ponytail
You can choose this hairstyle if your hair is thick and medium length. The ponytail and the backward curls give the hair more volume.
Braid and Bun
Try one fishtail braid wrapped around a bun if you want something more elaborate than a braid. A hairstylist can easily produce this sophisticated style. To maintain this look all day, you may require a lot of both hairspray and bobby pins.
Simple Twist
One of the most beautiful mother of the groom half updos is this one. The front hair is coiled and secured with considerable volume overhead at the back within the crown. The hairdo is given a gentle, feminine touch by the gentle bends and curls at the ends.
Tips for Styling Mother of the Groom Hairstyles
No matter what your age, you can look great on your son or daughter's wedding day. 
A big part of looking your best is having the right hairstyle. As the mother of the groom, you want to find a style that is both flattering and appropriate for the occasion.
Here are some tips for choosing mother of the groom hairstyles:
Consider your hair type. If you have fine or thin hair, you may want to avoid updos or hairdos that are too sleek and polished. These can make your hair look even thinner. Instead, opt for softer styles with plenty of volume.

Think about your face shape. Your hairstyle should complement your facial features. If you have a long face, for example, you may want to avoid styles that pull all of your hair back off your face. This can make your face look even longer. Instead, try a style with soft waves or curls around your face.

Don't forget about your dress. The neckline of your dress will play a role in choosing the right hairstyle. If you're wearing a V-neck dress, for example, an updo may not be the best option as it can cover up too much of your neckline. Instead, try wearing your hair down in soft waves or curls.

Find a style that makes you feel confident. On such a special day, you want to feel like the best version of yourself. Choose a hairstyle that makes you feel comfortable and confident. This way, you'll look and feel great on the wedding day!
How to Maintain Mother of the Groom Hairstyles
As the mother of the groom, you want to look your best on your son or daughter's wedding day. And one way to do that is to wear a beautiful hairstyle. But what if you're worried about how to maintain your hairstyle throughout the rest of the day? Don't worry – we're here to help! Here are some tips for keeping your Mother of the Groom hairstyle looking great throughout the day:
Start with good products. The first step to maintaining great hair styles is using good products. Invest in a good hair spray, styling gel, or pomade and use it sparingly. Too much product can make your hair look greasy and ruin mom's hairstyles.

Keep your hair up and away from your face. As the day goes on, in this case, your hair is going to start falling down around your face. To keep it out of your way, pin it up or put a headband would be a good idea for it. You can also use bobby pins to keep stray strands in place.

Use a scarf or veil as needed. If it's a hot day or you're just feeling too sweaty, don't be afraid to wear a scarf or veil to cover up your hair. It will help keep you cooler and prevent your hairstyle from looking too messy.

Wash and condition your hair as needed. Even if you use good products, your hair is going to get dirty throughout the rest of the day. Make sure to wash it and condition it regularly so that it stays clean and healthy.
Book an Appointment now
If you are considering hiring a professional hair and makeup stylist for your son's wedding day, Bridal Express Hair and Makeup Las Vegas is here for you. We love sharing ideas and providing assistance to our clients to ensure that they look good and what they really desire. Book an appointment now or call us on (702) 326 0619.