Look like an Angel on Your Wedding Day with Las Vegas Mobile Bridal Hair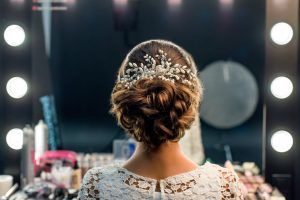 Every bride in Las Vegas should look their best on their wedding day. It is one of those special occasions where you get praised by everyone who visits. So, it becomes a challenge to find a good hair and makeup artist who will help to make you look like a princess on that day. There are so many brides who complain that their makeup artist didn't show up on time or did a poor job and all these can affect your mood on your special day which you will not want at all. That is why it is better to hire mobile bridal hair services. These companies send their makeup artists quickly so that you can get dressed up really fast.
Finding the ideal mobile bridal hair company
If you have never worked with a mobile bridal hair company before, you can trust that our company are experts. There will be numerous companies wanting to provide the perfect hairstyle for your wedding. Here are a few tips that you need to keep in mind while hiring them:
• Sample pictures – you must have a particular hairstyle in mind that you want to implement on the wedding day. Before you hire any Las Vegas Mobile Bridal Hair company, make sure you check the photos of the hairstyle they can offer. This will help to get new ideas and you can improvise on the style later on. Otherwise, you can leave the hairstyle in the hands of the stylist and let him/her do their job.
• Experience – the work of an experienced makeup artist will always be better than someone who is relatively new to this field. They will be able to handle different types of hair and come up with unique styles that will make you look beautiful on your special day. Go through the website of the company and see when they were established. This will help to understand how experienced they are.
• Fully qualified mobile hairdressers – qualified hairdressers will do a better job than anyone else because they have knowledge and expertise on what to apply on the hair and how to tie in different ways. The mobile bridal hair company that you are about to hire should have qualified hairdressers so that you don't have to worry about the style.
The wedding day is one of the days where you are pampered every moment. And, why not! It is a day when you will be officially getting together with your special one and you have the right to look the most beautiful. Getting your hair done by someone who is not known to be on time can ruin your entire day. In addition to the hair, you will also need to give sufficient time to the makeup artist too.
Mobile bridal hair companies have the reputation of reaching their clients on time. They have the experience to deal with complicated hairstyles of the clients and once they are done, you can walk out and look like a Queen!
We handle all of this for you so you don't have to leave your hotel room! We are wedding hair experts! Call us today and relax! We will make you look beautiful. click here to book an appointment. Learn more about our services here.