Look like an Angel on Your Wedding Day with Las Vegas Mobile Bridal Hair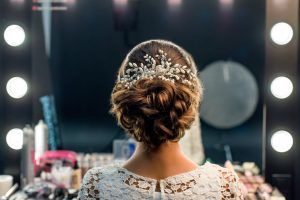 Every bride in Las Vegas should look their best on their wedding day. It is one of those special occasions where you get praised by everyone who visits. So, it becomes a challenge to find a good mobile hair and makeup artist Las Vegas who will help to make you look like a princess on that day. There are so many brides who complain that their makeup artist didn't show up on time or did a poor job and all these can affect your mood on your special day which you will not want at all. That is why it is better to hire mobile bridal hair services. These companies send their makeup artists quickly so that you can get dressed up really fast.
Finding the ideal mobile bridal hair company
If you have never worked with a mobile bridal hair company before, you can trust that our company are experts. There will be numerous companies wanting to provide the perfect hairstyle for your wedding. Here are a few tips that you need to keep in mind while hiring them:
• Sample pictures – you must have a particular hairstyle in mind that you want to implement on the wedding day. Before you hire any Las Vegas Mobile Bridal Hair company, make sure you check the photos of the hairstyle they can offer. This will help to get new ideas and you can improvise on the style later on. Otherwise, you can leave the hairstyle in the hands of the stylist and let him/her do their job.
• Experience – the work of an experienced mobile bridal makeup artist Las Vegas will always be better than someone who is relatively new to this field. They will be able to handle different types of hair and come up with unique styles that will make you look beautiful on your special day. Go through the website of the company and see when they were established. This will help to understand how experienced they are.
• Fully qualified mobile hairdressers – qualified hairdressers will do a better job than anyone else because they have knowledge and expertise on what to apply on the hair and how to tie in different ways. The mobile bridal hair company that you are about to hire should have qualified hairdressers so that you don't have to worry about the style.
The wedding day is one of the days where you are pampered every moment. And, why not! It is a day when you will be officially getting together with your special one and you have the right to look the most beautiful. Getting your hair done by someone who is not known to be on time can ruin your entire day. In addition to the hair, you will also need to give sufficient time to the mobile makeup artist Las Vegas too.
Mobile bridal hair companies have the reputation of reaching their clients on time. They have the experience to deal with complicated hairstyles of the clients and once they are done, you can walk out and look like a Queen!
We handle all of this for you so you don't have to leave your hotel room! We are wedding hair experts! Call us today and relax! We will make you look beautiful. click here to book an appointment. Learn more about our professional mobile wedding makeup and hair services here.
What is a mobile bridal hair service and why should you consider it for your wedding day beauty needs?
A mobile bridal hair service is a salon that comes to you. That's right, instead of you having to take all your bridesmaids and yourself to the salon, the salon comes to you! This is especially convenient if you're getting married in a location that's far from home or if you're having a destination wedding. Many mobile bridal hair services will even travel to Nevada for weddings.
Mobile wedding hair and makeup Las Vegas offer packages for hair and makeup, just like traditional salons. But instead of having to go from place to place to get your hair and makeup done, you can have it all done in the comfort of your own home or hotel room. And because the salon comes to you, there's no need to worry about getting stuck in traffic or dealing with parking.
Mobile bridal hair services are ideal for any kind of event where you need your mobile bridal hair and makeup done, including weddings, photo shoots, and parties. And because they come to you, they're also great for destination weddings or events in locations that are difficult to get to.
How does the process work and what can you expect on the big day?
Here at Bridal Express Las Vegas, we offer on-location hair and makeup services for brides and bridesmaids. We will travel to your location, whether it is a hotel on the Las Vegas strip or a wedding venue in the suburbs, and provide you with the highest quality mobile hair and makeup Las Vegas NV.
We offer a wide range of hair styles and looks, from sleek updos to romantic curls, and our airbrush makeup is perfect for achieving a flawless look. We also offer lash extensions and tanning services to help you achieve your desired look. Our prices are very competitive, and we offer discounts for large bookings. You can check out our reviews on Yelp or Instagram, or simply give us a call to book an appointment.
Who are the best mobile hair stylist Las Vegas and how do you choose the right one for you?
Choosing a mobile bridal hair stylist in Las Vegas is no small task. With so many options to choose from, it can be difficult to know where to start. However, there are a few things that you can keep in mind to help you find the best mobile bridal hair stylist for your needs.
First, consider the style of hair that you want. Whether you are looking for a classic updo or something more modern, it is important to find a mobile wedding makeup artist Las Vegas NV who can create the look you desire.
Second, think about the occasion for which you need hair styling services. If you are getting married, you will likely need a different style than if you are attending a formal event.
Third, consider your budget. Mobile bridal hair stylists vary widely in terms of price, so it is important to find one that fits within your budget.
Finally, take the time to read reviews and look at portfolios before booking an appointment. This will help you choose a Las Vegas bridal hair stylist who has the skills and experience necessary to give you the perfect look for your big day.
Here at Bridal Express Hair & Makeup Las Vegas, we understand the importance of finding the right bridal hair stylist Las Vegas. We offer a wide range of services to fit any budget, and our team of skilled mobile wedding stylists Las Vegas NV can create any look you desire.
If you're looking for a hassle-free wedding hair experience, consider booking our mobile bridal hair service. Our professionals come to you on the big day so you can relax and enjoy your time in preparation. We offer a wide range of styles to choose from, so you're sure to find the perfect look for your big day. Contact us today to learn more or book an appointment. We look forward to helping you look your best on your wedding day!
Five-Star Beauty Services for Your Hotel, Home, or Office!
Bridal Express Hair & Makeup Las Vegas offers professional hair and makeup services for brides and their wedding parties in the comfort and convenience of your hotel, home, or office. Our artists are experienced in all types of hairstyles and makeup looks, and we use only the highest quality products to ensure you look your best on your big day. Book your appointment today and let us take care of everything!
Passion is the number one quality that our mobile wedding hair stylists bring to the table. They absolutely love what they do, and it shows in their work. Each and every one of our clients is important to us, and we go above and beyond to make sure they're happy with their hair on their big day.
Book An Appointment with Mobile Hair and Makeup Las Vegas Now!
When it comes to finding the perfect wedding hair stylist Las Vegas for your big day, look no further than Bridal Express Hair and Makeup in Las Vegas. We offer professional hair services for brides, flower girls of all ages, and a bridesmaid. Our team of experienced hair stylists in Las Vegas, NV will work with you to create a look that will make you feel beautiful and confident on your wedding day.
We know you're busy planning your wedding, so let us take care of the hair and makeup Las Vegas Strip. Our artists are available for appointments, and we offer a wide range of services to suit your needs. We can even come to you, so you can relax and focus on the important things.
If you're looking for a hairstylist who can create an amazing look for your wedding, party, or any other special occasion, you need to call our Las Vegas Mobile Bridal Hair. We specialize in creating beautiful wedding hairstyles in Las Vegas for women of all ages and fashion tastes. No matter what the occasion, we can help you look your best.
We offer a variety of services, including hair styling, makeup, and lashes. Our goal is to provide you with a great experience and leave you looking and feeling your best.
We have years of experience in the beauty industry and are passionate about helping our clients look their best. We take pride in our work and always put our clients first. We want you to be happy with your experience, so please let us know if there is anything we can do to make it better. If you're looking for great hair care services in Las Vegas, call Las Vegas Mobile Bridal Hair today!
We provide our services all over the Las Vegas area, and throughout Nevada. Our Hairstylists are dedicated to providing our clients with the best possible service, and we are always available to answer any questions you may have.
Call us today to book an appointment!