How Long Does Bridal Party Hair And Makeup Take
As the wedding day approaches, the excitement about how everything will play out grows as well. You will have to start making a schedule so that you can get ready promptly, take some pictures while you're getting ready, pause for a bit to enjoy the event, interact with your guests, and, most importantly, arrive at the ceremony and reception on time. You must know how long does bridal makeup and hair takes in order to set the timetable and adjust it as necessary. This post contains our response to that important question.
How Long Does Bridal Hair And Makeup Take?
It takes between 60 and 90 minutes to complete the makeup and hair for the bride. You may want to book a little extra time if you have any additional add-on appointments, such as eyebrow waxing or plucking. During their wedding day, some brides also plan manicures and pedicures, adding additional time to their preparation routine. Depending on the kind of makeup you want, the time may also increase. The bride will need to allot more time to her makeup and hair if she prefers a more dramatic look or perhaps an elaborate updo over a straightforward hairdo with waves. To get a better sense, ask your hairstylist and makeup artist how long it will take them to create the makeup look you want.
Each bridesmaid may need to spend about 30 minutes getting ready. The time will vary depending on how complex the bridesmaids' hair and makeup are, but that is a general approximation. The amount of time can also vary if they are doing their own makeup and hair, depending on who is in charge or how much time and effort they may require.
If you've scheduled the same wedding hair and makeup artists for both you and the wedding party, you should also consider when you want to get ready as the bride when scheduling their hair and makeup. Some brides get ready early to allow for the bridal photos, the first look, and the pair's pictures. Later, they have touch-ups so their makeup is still fresh when they enter the church. Others, however, believe that brides should get dressed first so the makeup and hair experts don't have to rush even if they're running a little late (which they almost always are!). The makeup will also look its best and freshest as you walk through the aisle if the hair and makeup are done last.
Consider extending the wedding timeline by 30-45 minutes if you require some bridal solo photos as well as additional portraits with your wedding party. For instance, if the wedding ceremony is at 4 PM, you should start getting ready at 1 PM so that you can be ready by 2:30 PM or so, get some beautiful pictures, and still have time in the middle to enjoy the occasion and share some laughter with your loved ones. You still have time to schedule your initial looks during this timeline.
Bridal Hair & Makeup Tips
Here is the list of tips for your Bridal Hair and Makeup.
1. Hair Preparation
While you might be tempted to wash your hair the day before the wedding, the majority of professional hairstylists prefer to work with hair that is at least a day old. That's because recently washed hair is slicker than hair that is one or two days old. The natural oils aid in better hair shaping and retention. However, some hairstylists like to work with freshly washed hair that was washed that day. Ask your hairstylist whether she wants to wash your hair. But eventually, the artist feels at ease and lets the bridesmaids know what she needs, even when to shampoo her hair.
2. Skin Preparation
Prior to applying your wedding makeup, you must prepare your skin. Even though you're indulging in bridal services, which will fully manifest on the wedding day, you still need to make an effort on your wedding day in order to ensure that your makeup sits well and lasts. Most makeup artists will already start giving you skincare advice and perhaps some suggestions on how to get your skin ready for wedding makeup. Since they deal with various skin types on a daily basis, they will be familiar with your skin's requirements and the finest products to use on it.
The majority of artists will demand that you thoroughly cleanse, exfoliate, and finish with a mask. Some people also advise icing your face before applying makeup since it helps to seal your pores and refresh your skin. This allows for a more even application of makeup, less smearing, and longer-lasting makeup. However, a lot of artists prepare their own skin. They will free of charge cleanse your skin, exfoliate it, or even apply a cosmetic mask. To avoid wasting time preparing the skin while it is already part of the cost of their services, get this addressed as soon as possible.
3. Assign a location for everyone to get ready!
Assign a dedicated place for everyone to prepare. As the bride requires 1 or 2 people nearby, several bridesmaids could get ready inside the bridal suite. The maid of honor can do this or you can place her in another room so she can monitor the proceedings and ensure that the wedding party arrives on time. By deciding where everyone will get ready, you may avoid the chaos that results from having everyone crammed into one space and ruining the experience for everyone. It is recommended to designate two rooms in addition to your bridal suite for getting ready.
Make sure that the ceremony venue is prepared to accommodate everyone if you're getting ready somewhere other than the hotel, such as your home or a salon. When the bride and groom occupy both of the ceremony venues, 2 or 3 rooms, the space might also be divided. Make sure the location is closed in case the bridesmaids decide to go somewhere else. Anywhere that is convenient for everyone can be used, such a nearby motel or a person's house.
4. Prepare things for the wedding makeup and hair stylist as well.
A cozy chair, a modest table for her possessions, and a power outlet which extends to the bride's getting-ready chair are likely to be necessities for your hairstylist. It's also advised to keep an extension cord available so that the last point doesn't become a problem. Although the majority of hairstylists do have their own extension cords, I still advise asking a bridesmaid to always have one on hand.
On the other hand, your makeup artist will require that you are situated in a location with good natural light. The illumination in a space is frequently insufficient for applying makeup naturally and flawlessly. a tiny table to arrange all the cosmetics on. She needs a seat to sit in while working. A seating experience generally aids them in maintaining control of their hands when applying liner, mascara, lip liner, etc. to their faces. Although some makeup artists do have their own chairs, having one is always a smart idea to protect your back. She will also require a power point that is simple to use if she is applying airbrush makeup.
5. Discuss Who Will Pay For the Bridesmaids' Hair and Makeup
The general idea is given here. Once the bride has the money, when she wants to, when she understands the bridesmaids have spent a significant amount on their responsibilities—like bridesmaid dresses, bachelorette, etc.—and wants to repay the favor, once she desires her bridesmaids to look a certain way, and when it's a destination wedding as well as the bridesmaids are covering their own travel and lodging costs, are when brides typically foot the bill for the bridesmaids' makeup and hair.
Additionally, the bride may offer to pay for some of the bridal party members, such as the maid of honor, as well as any bridesmaids who were a big help to her throughout the planning process or someone who is now experiencing financial difficulty. In order to avoid offending the other bridesmaids' sensibilities, this could be done in a confidential way. The bride can pay for her own hair and makeup, and also the bridesmaids may pay for the rest of the expenses. When the bridesmaids opt to DIY their makeup, hair, or both, she can also be responsible for paying for those services unless she prefers that they be done professionally.
When the bride has been very generous throughout a wedding planning process (favors, paying for accommodations, etc.) and the bridesmaids would like to return the favor, once it has been expected by a bride from the start, and when she hasn't bound anyone to get a particular hair and makeup look or perhaps receive it professionally done, the bridesmaids might pay for the costs of their own makeup & hair.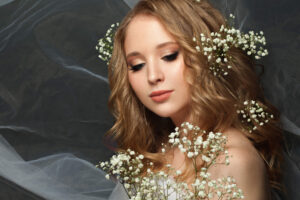 6. You are free to change your look at any time.
Don't freak out if you're not thrilled with your hair or makeup. Even if it requires them to retrace a few steps for their makeup or style process, a competent hair and makeup artist will be more than delighted to accommodate any modifications if you've engaged them. They take delight in seeing their customers satisfied, so they won't take offense if you want to make any modifications or, in extreme circumstances, start again if you have the time. If you're unhappy, though, speak up now to avoid discomfort and wasted time later. If you've got a reference photo, describe how it differs and how you would like it to appear. Just be sure to always speak in a respectful manner!
However, if you want to prevent this uncomfortable and frightening situation, be sure of a few things. Choose a hair and makeup artist that shares your idea first. Check out their work history to see whether their approach to makeup jives with the look you want for your wedding. Look for makeup experts who can create artistic makeup looks because some brides require bold eye makeup. If your ideal bridal makeup includes a dewy, natural look, go with a provider whose style fits your requirements. Other makeup artists specialize in creating this look. Next, arrange a call with them to gauge their response to your preferences. Do they intend to take them into account? That can reveal a lot concerning how easy you'll be around them.
Third, plan a trial run. For a small fee, many makeup and hair stylists provide a trial run for their brides so that you can get a better idea of how everything will go on during their wedding day. But don't anticipate getting a free second trial. That's unethical and a little rude. Please split ways if the first trial doesn't go well. Send them the motivational photos you have stored on your phone as a last step. This will make it easier to make comparisons on the last day, preventing any discomfort or dissatisfaction with the final appearance.
7. Get a time estimate for each service
While hairstyling a bun can just take 15 to 20 minutes, each bridesmaid might need more than 45 minutes for a spectacular updo or a longer look with tons of curls. And even then, it's simply a guess. To find out how long your group's wedding hair and makeup may take, check with your personal stylist or salon as each one will probably give you a little different time estimate.
8. Remember to tip
Tipping wedding professionals is often advised, especially if they have performed excellently and met or beyond your expectations. Tipping someone is thought to be a kind gesture, especially if they have cut your anxieties in half. It is advised to tip beauty hair and makeup artists between 10% and 20% of their fee. The bride or the bridesmaids may pay the tip for the bridesmaids' cosmetics and hair, based on their expectations of one another, if it is a nice gesture, or whether it was already agreed upon. If you've chosen to tip the hairstylist and makeup artist, do so as they're about to depart the location or add it to the balance of the services you still owe. If you anticipate being preoccupied when they go, ask a bridesmaid to take on the responsibility.
9. Dress Afterwards
Having robes is a useful thing to wear while getting your wedding hair and makeup done. They are not simply adorable party celebration or dresses to have some photos taken. They will clean up any product spills or unintentional coffee or wine spills that may occur as you get ready. In order to prevent their clothing from being ruined during the excitement of getting dressed, bridesmaids should keep changing into their dresses once getting ready. In addition, the dresses are extremely simple to put on from the bottom, so you won't have to be concerned about messing up your hair or makeup.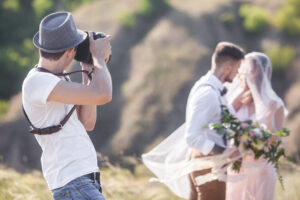 10. Establish A Schedule
Create a timeline that goes back in time. Establish a schedule, be aware of when you need to leave the house as well as what must be accomplished beforehand. With your makeup artist, hairstylist, and photographer, go over the details. You will need some time on the morning of the wedding to do the following: including taking some time for yourself to pamper yourself, getting ready, spending time with the bridesmaids and family, and get pictures, which include bridal pictures, family photos, pictures with the bridesmaids, solo pictures, first looks, also if possible, several couple photographs as well. You must let the photographer know whether you require any pictures while getting ready as well. Remember to allot time for your mother as well as the flower girls to get prepared for such an event as well. It's best to include the latter in the timeline, even though it won't take over 15 minutes.
Here is a sample timeline of a wedding day where the wedding ceremony is scheduled to begin at 5:45 PM.
Noon: Your team of hair and makeup artists arrive; the bride and bridesmaids begin getting ready for the session.
The photographer arrives between 2:00 PM and 2:30 PM, and the brides and bridesmaids' hair and makeup are also ready about this time.
The bride gets dressed at 2:30 PM (Some private moments are captured throughout this process, such as your sister or a bridesmaid zipping your wedding dress).
Bridal portraits at 2:45 PM
Ladies portraits: Bridesmaids' photos and pictures with bridesmaids from 3:10 to 3:30
3:30 PM: Initial Look
4:00–4:30 PM: Photos with the family and other family members
4:30–5:20 PM: Couple portraits
5:30 PM: During this time, the bride is Preparing To Walk The Aisle
At 5:45 pm, the wedding ceremony begins.
11. Make the entire process enjoyable
You must put in a lot of effort if you want to enjoy yourself at these events and make the little things matter. You will need to keep the broader picture in mind and make the best day of your life truly mean the same, because things can become difficult and emotional very quickly. That does not mean that you should conceal your emotions when you are feeling them. Instead, the best memories to treasure afterwards come from emotive photos. We only intend to leave out the joyful times. The finest time to celebrate is when you're getting ready, since you're around with a group of your closest friends and family. So offer some hors d'oeuvres, pop some champagne, take some silly selfies to be posted on your Instagram, and turn on your favorite music.
FAQs
Here are some frequently asked questions.
Q: How soon should I begin preparing for my wedding?
We advise starting to get ready 4 to 5 hours prior to the wedding ceremony for both the bride and the bridal party of four. Enough time will be given for makeup, hair, and pictures. For each extra member of the wedding party, add 1.5 hours (or subtract the very same time frame for smaller wedding parties). Double the anticipated travel time if you're going to a salon.
Q: What foods should I eat to prepare for the wedding?
You and your wedding party should be sure to eat breakfast and lunch because getting ready will take a lot of time. Choose a filling protein and fiber combination or an invigorating combination of whole grains & fats for breakfast. Have a few healthy snacks available, such as almonds, crackers, and fruit, and don't forget to stay hydrated by drinking lots of water.
Achieve your Bridal Hair and Makeup with Bridal Express
Your big day is your chance to actually shine. Every wedding couple should shine both internally and externally as they celebrate their love. And planning is the key to achieving that outside glow. You may make your dream wedding style a (neatly scheduled) reality by using the scheduling guide.
For couples, in order to achieve your best Bridal Hair and Makeup looks, Bridal Express is your number 1 choice for your weddings. We offer plenty of bridal services to offer, especially for both couples' mothers' hairstyles. For more questions and information, set up a consultation or appointment with us or call us at (702) 326 0619.
For more information on how https://hairandmakeuplasvegas.com/ can help you on your Wedding Hair and Makeup, please contact us at (702) 326 0619, or visit us here:
Bridal Express Hair & Makeup Las Vegas
3150 N Soft Breezes Dr, Las Vegas, NV 89128, United States