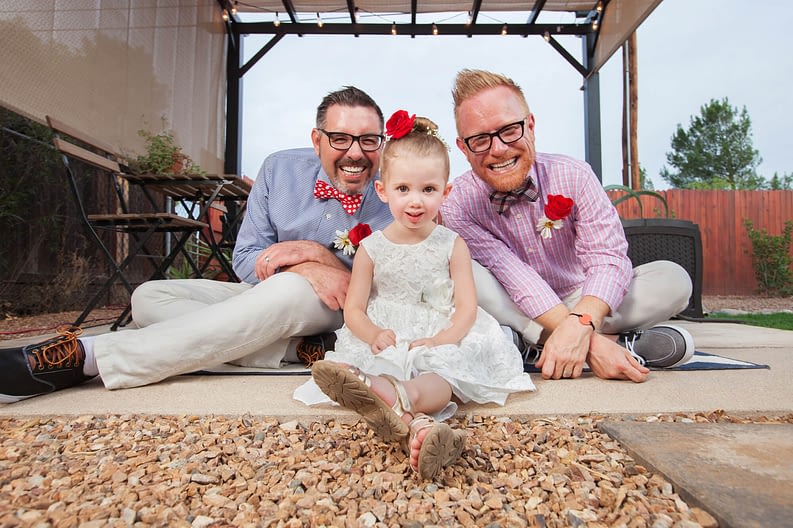 You can count on us for your wedding hair and makeup. Our salon is open to same-sex lovers planning weddings in Las Vegas and its surrounding community. We go above and beyond, from start to finish to deliver the best quality beauty services that exceed expectations.
Why does every same-sex couple needs a hair and makeup artist for their wedding?
When it comes to wedding planning, there are a lot of details that need to be sorted out. And while some couples might not think about it, hair and makeup is a big part of the equation.
For same-sex couples, this is especially important. While there are plenty of talented hair and makeup artists in Las Vegas, not all of them are comfortable working with LGBTQ+ clients.
That's why it's so important to find hair and makeup artists who are specifically trained for working with same-sex couples. They'll be able to help you create the perfect look for your big day, whether you're going for a classic and timeless aesthetic or something a little more modern and edgy.
Not only will they make sure you look wonderful, but they'll also help you feel your best on what is sure to be one of the most memorable days of your life.
The benefits of having a hair and makeup artist
When it comes to planning a same-sex wedding in Las Vegas, one of the most important decisions you'll make is who will do your hair and makeup. While you may be tempted to DIY your wedding day look, we strongly suggest hiring a professional hair and makeup artist. Here's why:
1. They know how to accentuate your best features. A good hair and makeup artist will know how to highlight your best features and play down any areas you're not as confident about. This is especially important on your wedding day celebration when all eyes will be on you!
2. They can help you achieve the exact look you want. Whether you're going for a natural look or something more bridal glam, a professional hair and makeup artist will be able to help you achieve the exact look you're going for.
3. They'll save you time and stress on your wedding day.Let's be honest, getting ready for your wedding celebration can be stressful enough without having to worry about doing your own hair and makeup. Hiring a professional will take that stress off of your plate so you can relax and enjoy your big day.
4. They have a lot of experience with weddings.A good hair and makeup artist will have plenty of experience with weddings and will know how to make sure everything goes smoothly on your big day.
5. They come with a team of experts. When you hire a beauty professional hair and makeup artist, they usually come with a team of experts (hairstylists, makeup artists, etc.) who can help make sure everyone looks their best. This is especially helpful if you have a large wedding party.
If you're looking for a professional hair and makeup artist in Las Vegas, Nevada, Bridal Express Hair & Makeup Artists in Las Vegas is the key. We are a team of experienced professionals who specialize in weddings and will ensure you look absolutely stunning on your big day!
Hair & Makeup Artist Services
When it comes to your big day, you want to look and feel your best. That's why having a professional hair and makeup artist who specializes in same-sex weddings is so important. Las Vegas has numerous talented hair and makeup artists who are experienced at helping transgender, non-binary, gay, and lesbian couples look their absolute best on their special day.
At Bridal Express Hair & Makeup Artists in Las Vegas, we have a team of experts that specialize in same-sex wedding hairstyling services. Our top priority is making sure that each couple looks stunning and feels confident in their look for their fun wedding celebration. We understand the importance of finding the perfect fashion style that reflects each person's individual personality while still creating a cohesive look for the couple as they walk down the aisle together. We offer a wide range of services, from traditional hair styling and updos to modern braids and everything in between.
Our team can also provide makeup services for both members of the couple, ensuring that each one feels beautiful and comfortable on their big day. We use only high-quality products that are tailored to each individual's skin type, ensuring that everyone looks radiant from head to toe. For added convenience, we can even come out to wherever you're getting ready for your wedding to provide our services, so you don't have to stress about traveling back and forth on your special day.
At Bridal Express Hair & Makeup Artist in Las Vegas, we're dedicated to providing exceptional service and making sure that every non-binary, transgender, gay, lesbian and lgbtq+ couple looks amazing celebrating on their fun special day. Contact us today to learn more about our hair services and makeup artist's services or to book an appointment!
Why Las Vegas is the perfect place for a same-sex wedding
Las Vegas is the perfect place for a same-sex wedding, and here's why:
Hair and makeup artists in Las Vegas are some of the best in the business, and they're available for hire for your wedding day celebration. Whether you're looking for something subtle or dramatic, you can find a hairstylist or makeup artist to meet your needs.
The weather in Las Vegas is perfect for an outdoor wedding, so you don't have to worry about the possibility of rain spoiling your big day. And with so many beautiful locations to choose from, you'll be able to find the perfect wedding venue for your reception and ceremony.
With so many great hotels and casinos in Las Vegas, there's no shortage of places to stay while you're planning your wedding. And with so many restaurants and venues to choose from, you'll be able to create the perfect menu and atmosphere for your special day.
So if you and your fiance are thinking about having a same-sex wedding in Las Vegas, don't hesitate - make it happen today!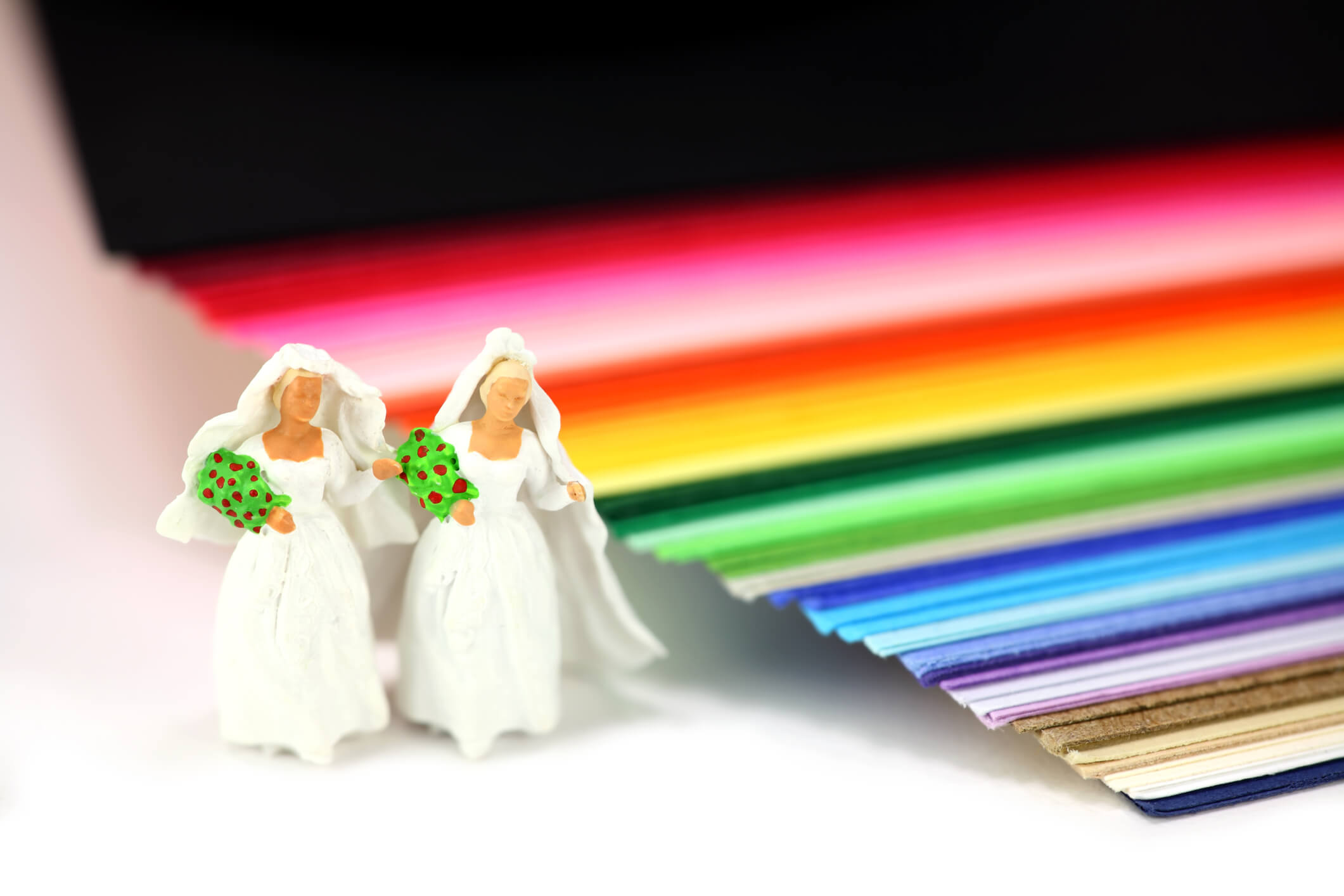 Book a visit now
Weddings are a special occasion for you and your soon-to-be spouse. Thus, you want to make sure that you look and feel your best on that special day. After taking care of gowns or tuxes, you will need to deal with hair and makeup.
However, the professional you work with will determine whether you get a satisfactory service that offers value for your money or the one that leaves you unnerved and less confident.
At Bridal Express, it's our goal to provide a 5-star experience for you and your partner, as well as the entire people at your wedding. Our team of bridal beauty experts will provide flawless hair and makeup for your special day.
Let us pamper you with exquisite wedding hair, bridal makeup, skin treatments, and body contouring that pronounce your elegance. We also provide spa downtime for you, your spouse-to-be, and the entire wedding party.
All-Inclusive Wedding Package For Same-Sex Lovers
We love taking part in the celebration of love, and we consider it a great honor to work with you on your special day. Whatever your needs are, you can rest assured that you're working with the best salon in Las Vegas.
With over 15 years of experience, and having served more than 5000 couples, we're the most experienced and best-qualified professionals to handle your makeup and hair needs. Be it a gay or lesbian, or transgendered wedding, you can bank on our non-prejudicial and dedicated services to make sure you look your absolute best.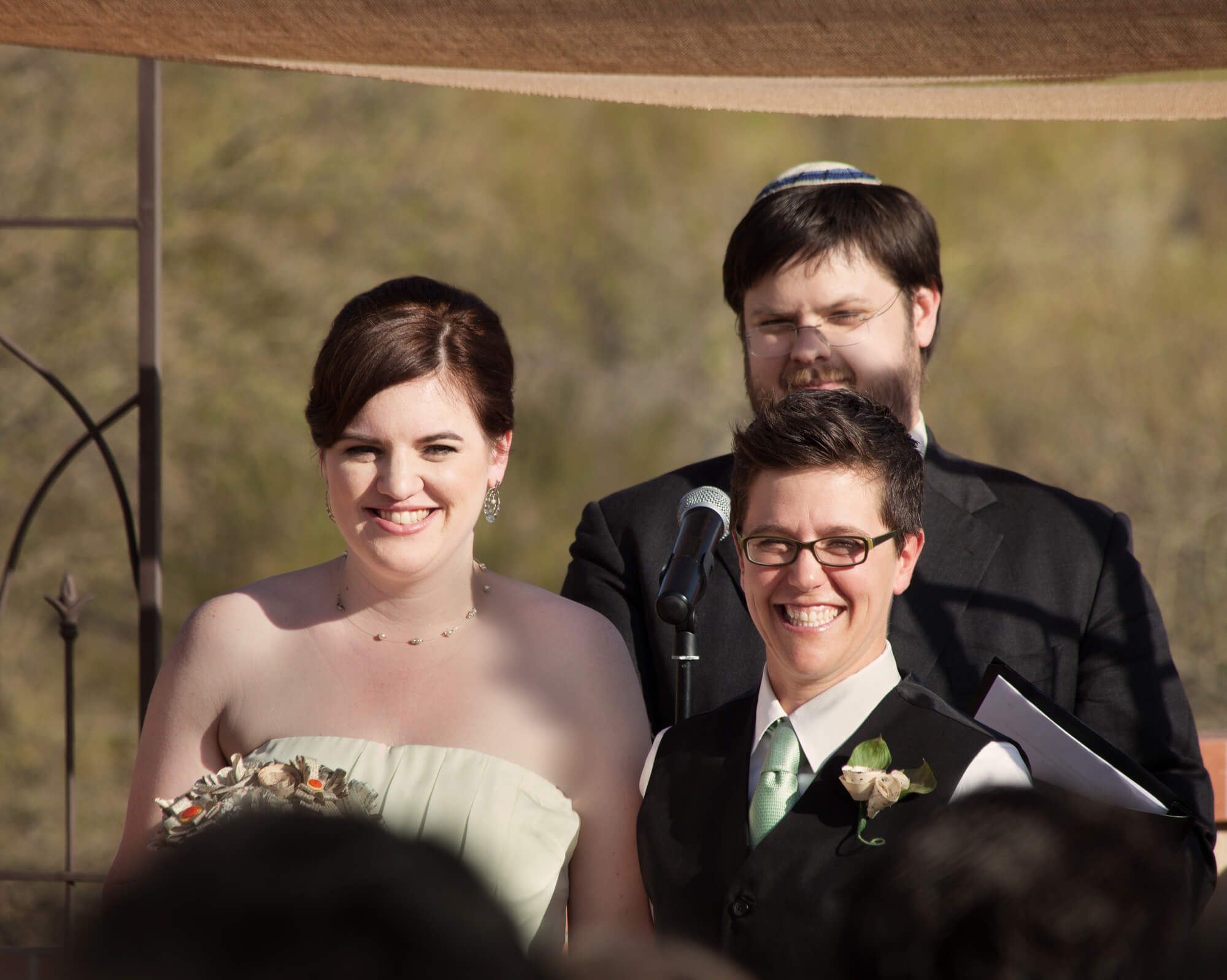 FAQs
Q: How do I pick the best hair and makeup artist for my wedding?
Before contacting, do some research.
Wedding hair and makeup artists ought to have their online presence and a bridal portfolio showcasing their previous work. Find an artist whose aesthetic you adore; each artist has a unique flair, so you should pick one that complements you to get the look you desire on your wedding day.
Read reviews
You like wedding makeup and hairstylists who will arrive on time, provide great work, and make your day feel joyful. Pay close attention if former customers complain about a wedding service. You can also check such reviews on Google just by searching for it. Be sure that each company or beauty agency that is being presented in groups on Google has good reviews with good words of testimony and will meet and award your full rights to your fun wedding celebration.
Take into account your age, skin type, as well as skin tone.
Make absolutely sure that your wedding makeup artist & assistants are skilled and experienced at dealing with everyone in the fun wedding party if there are a variety of types of skin tones, ages, and needs.
Choose a person who is qualified, experienced, insured, registered, and professional for such a significant event and occasion. This person should be able to walk you through the process and be your exclusive provider for the day.
Q: Do you have any list of references?
It's crucial to read about other people's experiences to understand all there is to know about the artist that a photograph simply can't convey while looking for the ideal makeup artist or hairstylist on your big day. On Facebook, we have five-star reviews, and previous customers have left positive comments on all of our social media pages. Please locate and select the Reviews option just at the top of this page. If necessary, we may give you direct contact information for references so you'll know precisely what you're signing up for. Our professionalism, reliability, and friendliness are things we take great pride in, and that shows in the number of previous brides who refer us to new brides.
Q: What if at this moment I'm not sure about the package or numbers to reserve?
Selecting the right package
Choose the package you think will work best for you and your needs on your special day. This entails being aware of the precise quantities & services required for the situation. Even by the time of the trial, ideally six months before your wedding, this must be verified. But before we talk about the trial, it's vital to think about your service time as well as the wedding suite accessible time when choosing a package. If those are early or you have limited access, you could need a package with professional team support to speed things up, even though your numbers are low.
What occurs throughout your trial?
It's critical to check numbers at this stage since we will begin developing a schedule and prepare for the timelines of your wedding morning during the trial. To make sure that the best team is present on your day, we are using this information regarding the size of the party and the services required for the day. Usually, apprehensive members of the bridal party change their minds once they realize that our objective is to make everything look stunning and feel at ease for the wedding. We can determine what each member of the bridal party is satisfied with and collaborate together to create the ideal appearance by going over needs during the trial. For those special women in your life who are going to support you during your wedding day, we create a stunning, complementing style. We always make sure your bridesmaids match and integrate with your ideas for the special day while achieving a cohesive group style and accommodating individual desires. All of our clients should look their best, and after viewing the outcomes of your trial, most usually realize they want to avoid being left out.
Q: How long do bridal makeup and beauty services take?
We are having a trial consultation that determines how long it will all take.
Before our meeting at your trial consultation, we won't know your specific dates or your needs for you and your bridal party. The look will be completed significantly more quickly during the wedding day than it was during the trial, since we will start following a set of instructions, a face chart, films, and instagram photos to recreate the hair style rather than deliberating over each step as we did during the trial. After your appointment, a timeline will be made keeping this in mind. Each bridal client and bridal party are unique, thus they have various needs. The wedding day's precise timing won't be known till after the trial consultation. As a general rule, we allow 3 hours for the bride's hair and makeup, and 45 minutes for each application for the rest of the bridal party, including the parents and bridesmaids. Shorter, finer-haired women may need to wait a bit less time, while longer, thicker-haired women may need to wait a little longer. However, we typically see that this averages out to be around 45 minutes. We divided this time between the crew and created a timetable and proposed schedule starting from your ceremony. It's really tough to determine the exact timeframe before our encounter.
What will we talk about during your trial?
Everyone has different demands for their hair and makeup, so at your trial we will go through things in great detail that will mirror what you and your wedding party desire. The timing of a wedding hairstyle depends on its length, texture, and desired style. Take these things into account while planning your morning schedule and the window of time you need to prepare for your beauty routine. Allow plenty of time for things like registrar interviews, photos, wedding dresses, vintage vehicle rides, etc.; we would rather be early than feel hurried at the end.
At Bridal Express, we celebrate pride, love, and equality. We promote and support marriage equality. When you contact us, we will do our best to make sure that your needs are adequately attended to. Our team of customer-friendly and enthusiastic staff will make you feel at home and ensure that your makeup needs are done right.
Personalized Hair and Makeup Services At Affordable Prices
We understand that every individual has a unique taste and what they have envisaged for their wedding. This is why our services are designed as easily customizable solutions to ensure that your individual needs are adequately catered to.
We provide you with personalized services delivered at affordable prices. We'll listen to you and customize a solution that specifically addresses your needs and concerns.
Leave your hair and makeup care to us; we're more than capable!
After your same-sex wedding makeup service in Las Vegas, you expert your beauty artist to provide you with a perfect makeup that blends naturally with your neck and around your shoulders. At Bridal Express, we provide you with an excellent service that ticks all the boxes.
Our experienced and talented artists are here to help you find your ideal wedding look.
If you are around in the Las Vegas, Nevada area and looking for hair stylists and make-up artists for your same-sex wedding, whether you are transgender, non-binary, lesbian, gay and part of lgbtq+ celebrating your fun wedding event, don't hesitate to book an appointment with us and our team of stylists will do our best to cater the best result to all your desired hair styles for your wedding. If you are worried about our pricing, don't worry, we offer packages. If you have other concerns regarding our other services, like blow out hair, types of wedding hair extensions, hair services and others. Please feel free to call us for more info.
Contact us now!
For more information on how https://hairandmakeuplasvegas.com/ can help you with Hair & Makeup Artists For Same-Sex Weddings In Las Vegas, please contact us (702) 326-0619, or visit us here:
Bridal Express Hair & Makeup Las Vegas
3150 Soft Breezes Drive Las Vegas, NV 89128
Same-Sex Wedding Makeup Service in Las Vegas