Blow Out Hair Treatments in Las Vegas Nevada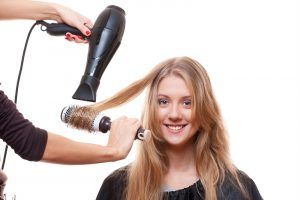 If you're looking for a clear, clean and sophisticated look in Las Vegas, Nevada then Blow Out Hair is the way to go. We offer a range of blow out hair styles, carefully and meticulously lifting your hair off your scalp as we dry it, so that it does not get oily or greasy. This means that your hair will last longer between washes, and it will hold its style for at least two days.
Healthy and Vibrant Hair
Our priority is to make sure that your hair retains a great, healthy look. Blow Out Hair is less damaging to your hair than other hairdos. We use thermal round brushes to provide the heat to dry your hair, which means that we do not need to apply hot tools directly to your hair. We also use carefully selected products to protect the hair and ensure that it holds its style.
Blow Out Hair is ideal for anyone who has long hair, whether the hair is thick or thin, curly or straight, a blowout can help to give it a little lift and fullness, and ensure that your hair looks stunning. If you have a special event coming up, whether that's a wedding, party, date or job interview, a blowout is a great way to take your usual look and add a little extra chic and 'put togetherness' to it.
Look and Feel Pampered
Blow Out Hair treatments are one of the less 'intensive' hair treatments that you can have done. They're a chance for you to get your hair looked after, and there's something satisfying about sitting back in the hairdresser's chair and letting someone else look after your hair for a change. You can get a trim if necessary, and get a blowout with a touch of careful styling. It's something that you can have done regardless of whether your hair has been permed, colored or otherwise styled, too.
Ideal for Your Wedding Day
If you have a wedding coming up and you want to make sure that your hair looks stunning on the day, then a blow out hair styling treatment is a great idea. You can have the basic style prepared the day before, and then just put the finishing touches to it the morning of the wedding, along with the makeup, and your dress. Having the perfect hairstyle will give you a feeling of confidence that will show in everything that you do, and in how you carry yourself on the day. Getting your hair done by our team of stylists will make you feel like a princess, and will add to the experience of the wedding as well.
If you have ever tried to replicate the look of a blow out at home you will know how time-consuming it can be, and how much easier it is to have someone else take care of your hair for you. Our dedicated hairstylists can give you the sleek and smooth look of a blow out while you sit back and relax, drink your coffee, and enjoy a magazine.
Book Your Hair Appointment Today
The team at Hair And Makeup Las Vegas have many years of experience in creating a range of hairstyles. Our blow out hair dos start from $65.00 for a daytime appointment. We do early morning appointments too. If you would like a treatment before 8AM then prices start at $100 for this type of hairstyle.
You don't have to come to the salon. We will travel to any location in Las Vegas, Nevada and the surrounding area. If you'd like to know more, give us a call or get in touch using our contact form.